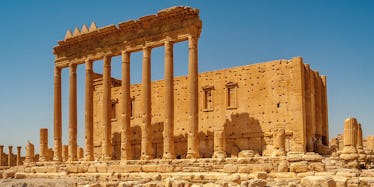 The US Is Sleeping On A Way To Hurt ISIS & Protect Culture
Getty Images
Ancient history is being dug up from the ground in Syria and sold to help fund ISIS.
A bill that could help curb ISIS profiting from these artifacts passed in the US House of Representatives in June, but is still sitting in the Senate.
Syrian archeological sites are being pillaged "on an industrial scale," UNESCO director Irina Bokova said recently. Satellite images show the land dotted with dug holes as looters seek artifacts to sell.
Looting had been going on in Syria before ISIS emerged but has escalated with the crisis.
While most major museums stopped buying dubiously-obtained cultural property long ago, many collectors are, willfully or otherwise, ignorant of purchases' origins and are buying Syrian artifacts.
Profits from these sales are helping ISIS continue to wage destruction on Iraq and Syria.
Erin Thompson, a professor of art crime at John Jay College of Criminal Justice explains many items sold in the US from Syria are not big statues and structures.
Instead, they're small items like figurines, pieces of glass and coins selling for $50-$100, but these small items add up. Thompson further describes:
Looting is driven by money. People wouldn't be digging up these antiquities unless there were buyers down the line, and we know the US is a major market for antiquities.
US Representative Eliot Engel introduced a bill this past spring to eliminate the American market for stolen Syrian antiquities.
The bill has two goals: to impose import restrictions on cultural artifacts from Syria and to organize the various government programs working to protect cultural heritage.
The import restriction would limit the amount of artifacts brought into the US from Syria and buying and selling stolen relics would become more explicitly illegal.
It wouldn't be an immediate fix, but there are clear benefits to limiting the trade of looted antiquities.
Patty Gerstenblith, a law professor at DePaul University and chair of President Obama's Cultural Property Advisory Committee, said,
If the demand is reduced, the economic motive for looting is also reduced.
With these new restrictions, any illegal items found attempting to enter the US from Syria would be confiscated and held safely by the government. The law would also protect legal items brought into the US.
All cultural heritage would be stored until it could be returned to rightful owners. Although, with the country in turmoil, it's difficult to truly say who the owners may be.
Import restrictions like this are not uncommon. A similar law was put in place for Iraq in 2004 that still stands.
However, because Iraqi and Syrian artifacts are very similar, illicit traders are posing Iraqi artifacts as Syrian to avoid the restriction.
In December 2013, the European Union applied restrictions to the trade of Syrian cultural artifacts that had been illegally removed from the country after May 2011. The UK enacted import restrictions on Syrian cultural property in 2014.
Moreover, the United Nations Security Council banned trade in looted antiquities from Syria and Iraq this past February.
The bill was brought to the Senate in July, but is still sitting there.
Dr. Andrew Moore, president of the Archaeological Institute of America (AIA), explains the importance of the US government supporting these restrictions.
It will send a signal that [looting and illicit trade] matters enough for Congress to take it up. That sends a powerful message to the world.
America is obligated to act against looting and illicit trade based on agreements with the 1970 and 1972 UNESCO Convention and the 1954 Hague Convention, stating all nations must help protect cultural property.
Correspondingly, the US has its own act, the Cultural Property Implementation Act, which binds it to the UNESCO conventions.
Many international groups are working to protect cultural heritage in Iraq and Syria.
Although UNESCO is unable to work directly on the ground in Syria, it's working with art markets and national governments, including archeology groups in Syria, to do what it can.
This involves mobilizing countries to restrict illicit trade, holding workshops for neighboring countries on protecting artifacts, tracking the art market and alerting nations of the coordinates of protected sites to avoid targeting in potential strikes.
According to Aparna Tandon, a project specialist at the International Centre for the Study of the Preservation and Restoration of Cultural Property (ICCROM), import restrictions are generally helpful in reducing the incentive to loot, but internal efforts are needed as well.
ICCROM has contact with heritage professionals still in Syria and is working on community policing and dissemination of information to local residents. ICCROM and its regional program ATHAR also run workshops and training in heritage rescue.
Archeology groups across the globe are documenting sites and damages in Syria.
The AIA is working on gathering all groups to coordinate their collective work.
American governmental groups are also involved. The US Department of State signed a $600,000 agreement with the American Schools of Oriental Research to document historical sites in Syria last year.
Additionally, the FBI put out a notice in August warning against buying antiquities looted by ISIS.
US Immigration and Customs Enforcement are vital to stop trade in America. In order to be effective, border patrol must be trained to identify Syrian artifacts.
There are many factions involved in limiting the illicit trade that is destroying history and benefitting ISIS.  The proposed bill would help coordinate and bring central leadership to the various American efforts while reducing a major market.
Although the American government may be slow to act on this, Moore recognizes a positive shift in public attitude.
He's noted an increase in public awareness and care for cultural heritage, regardless of what country it's located in, stating:
We are all inheritors of the record of the past and it speaks to us directly today. I think people are feeling that more broadly now than ever before.