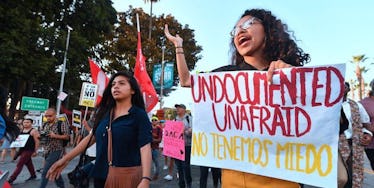 These Amazing Photos Of DACA Protests Around The Country Will Give You Hope
FREDERIC J. BROWN/AFP/Getty Images
On Tuesday, Sept. 5, many immigrants and allies were horrified by the announcement that President Donald Trump's administration would be moving to rescind Deferred Action for Childhood Arrivals, also known as DACA. With nearly 800,000 young people, known as "Dreamers," affected by the program, many were ready to show the administration just how upset they were by the news. And around the country, Dreamers and their allies turned out. Photos of DACA protests on social media took off on Sept. 5, giving hope that the fight isn't over yet.
The administration announced on Tuesday that after a delay of six months, it would be ending the Obama-era policy, which protected undocumented young people who came to the United States as children from deportation. To be eligible, applicants had to have arrived in the United States before the age of 16, have lived in the United States continuously since 2007, and have no significant criminal record. In a statement about the decision, Trump called the program an "amnesty-first" approach and said that "Before we ask what is fair to illegal immigrants, we must also ask what is fair to American families, students, taxpayers, and job seekers," per The New York Times.
Trump also called on Congress to enact legislation on immigration reform before DACA is phased out starting March 5, 2018. He tweeted,
But if Trump thought he could kick this over to Congress and everyone would be just fine with it, he should think again.
In the hours after the announcement, people around the country took to the streets to protest the policy change.
In schools, students walked out.
On college campuses, they proved they stood with their friends.
And in New York City, on the street in front of Trump Tower, some Dreamers put their own lives as Americans on the line, willingly getting arrested in protest of the policy change. More than 30 people were arrested on the afternoon of Sept. 5 while protesting the DACA repeal, according to Gothamist.
If nothing else, these images and videos will hopefully show those Dreamers who are uncertain about their future in this country that they're not alone. Small comfort though it may be.