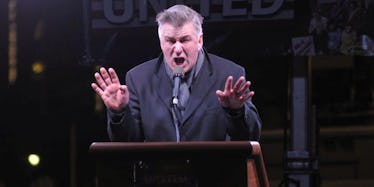 Alec Baldwin's Last Trump Impersonation Before He's POTUS Had All The Pee Jokes
REX/ Shutterstock
If there's anyone willing to shamelessly mock the Donald, it's Alec Baldwin.
Alec Baldwin, the actor widely known for his Trump impersonations on "Saturday Night Live", took his sketch off-screen on Thursday night.
He spoke at an anti-Trump rally in New York City called We Stand United NYC, which was organized by Mark Ruffalo and Michael Moore.
When Baldwin stole the spotlight at the podium, he certainly didn't hold back.
The actor -- who might as well be a professional Donald Trump impersonator -- began acting as the president-elect while simultaneously making jokes about having to go pee.
"I have to go to the bathroom. I have to pee."
If you close your eyes and listen to Baldwin talk, it's almost as if you're listening to Trump himself.
Before rallying the crowd, the comedian made a long-winded joke about Donald needing to pee, but soon assured the crowd he's holding his bladder until he arrives at the Russian consulate.
His joke, verbatim, reads,
I just want to say, I've been standing out here in the freezing cold for a long time.
He continues,
I have to go to the bathroom. I have to pee. But I'm holding it in, I'm holding it in, I'm not gonna pee. I'm going to a function at the Russian consulate tonight, I'm gonna hold it in 'till I get there.
As the crowd roars, he continues and jokingly says,
And then when I get to the Russian consulate, I'm going to have really, really long pee. Like the biggest pee I've ever had in my lifetime.
I'm going to go ahead and assume his pee will be "tremendous."
I crack myself up.
After Baldwin finished the last Trump joke he'll make before Trump turned POTUS, he started inspiring the crowd to take action during this scary time in history.
The comedian, overwhelmed with passion, urges New York not to give up now that the Republican party has taken office.
He yells, "ARE YOU GOING TO FIGHT?!"
The crowd screams back, "Yes!"
Citations: Alec Baldwin reprises Trump impersonation at anti-inauguration rally (Mashable)