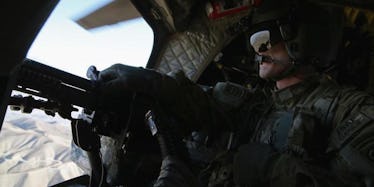 The Afghanistan War Is Over, So Why Was A US Soldier Just Killed There?
Getty Images
On Tuesday, one American service member was killed and two others were wounded during fighting in Afghanistan, NBC News reports. The service members have not been identified.
BREAKING: US Special Operations Forces attacked in Afghanistan. - @NBCNews — Elite Daily (@EliteDaily) January 5, 2016
The soldier who was killed was part of a joint US-Afghan special operations mission near the town of Marja in the Helmand province, according to The Washington Post.
Some Afghan troops were also reportedly wounded.
Brig. Gen. Wilson Shoffner, a spokesman for US forces in Afghanistan, said,
We are deeply saddened by this loss. Our heartfelt sympathies go out to the families and friends of those involved.
American forces have reportedly been involved in heavy fighting with the Taliban in this area for the past several weeks.
An American helicopter in the area was also reportedly forced to land due to a mechanical issue, TIME reports.
Fighting between US troops and the Taliban was reportedly ongoing as of Tuesday afternoon (Eastern Standard Time).
Pentagon spox says firefight that killed US soldier in Afghanistan today is still going on, sounds like US troops still on the ground — paul mcleary (@paulmcleary) January 5, 2016
The Pentagon is adamant US special operations forces were not on a combat mission when they came under attack, according to The Guardian.
But this assertion is emblematic of the disparity between what the US government says about America's continued role in Afghanistan and what it's actually doing there.
In other words, it's been over a year since President Obama formally declared America's war in Afghanistan was over, but the fighting is clearly not finished.
Firefight ongoing. It's been hours. Downed helicopter still on scene. 1 dead, 2 wounded. But don't call it, y'know, combat. — Spencer Ackerman (@attackerman) January 5, 2016
At the moment, there are around 9,800 American troops in Afghanistan.
Indeed, the US retains a significant presence in the country, and its soldiers are still fighting and dying there: 22 Americans died in Afghanistan in 2015 in total, including six US airmen killed near Bagram Airfield by a suicide bomber in December.
The US government can say the war in Afghanistan is concluded all it wants, but the situation on the ground suggests otherwise.
Citations: Afghanistan Attack One American Service Member Killed 2 Wounded Near Marjah (NBC News), 1 U.S. Special Ops Troop Killed and 2 Wounded in Afghanistan (TIME), One U.S. soldier killed, two wounded in Helmand province, Afghanistan (The Washington Post), Member of US special forces killed and two injured in Afghanistan operation (The Guardian), Obama marks end of combat in Afghanistan (CNN), Report: Military wants shift in U.S. troop presence in Afghanistan (CBS News)