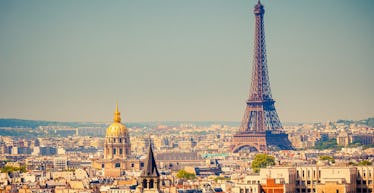 12 Powerful Images That Help Restore Hope After The Paris Attacks
Shutterstock
In the wake of tragedies like the Paris attacks on Friday, it's natural to feel somewhat hopeless about the tumultuous state of the world.
What happened in Paris was shocking and heartbreaking. Far too many innocent lives were taken by a vicious group of cowardly individuals and a beautiful city cherished by people around the world was shaken to its core.
But as the mayor of Paris, Anne Hidalgo, put it,
This evening is a moment of pain and mourning... but Paris is still here and standing.
Indeed, Paris is strong and it will survive this, which is why the terrorists responsible for the attacks failed. They wanted to break the city's spirit, they wanted the world to cower in the face of violence and destruction, but they failed.
On Friday night, the entire globe stood alongside France as it reacted to the horrific attacks. Beautiful images of this worldwide solidarity were shared across social media throughout the evening. These images stand as powerful reminders there is still hope, and the good in this world will always outweigh the bad.
Here are 12 powerful images that help restore hope after the Paris attacks.
As soccer fans were evacuated from the Stade de France, they sang the French national anthem.
Soccer fans sing 'La Marseillaise' as they are evacuated after the #ParisAttacks. Updates: https://t.co/l9iEx03v1h https://t.co/MvJ4IieD2n — The Australian (@australian) November 14, 2015
The spire of One World Trade Center was lit with the colors of the French flag to express solidarity with Paris.
L'antenne du World Trade Center est bleu blanc rouge ce soir par solidarité. #NYwithParis pic.twitter.com/65doVF9ePe — Marie-Joëlle Parent (@mariejoelle) November 14, 2015
People gathered in Union Square in NYC to show respect for Paris and the victims of the attacks.
New Yorkers mourn those killed in Paris attacks at Union Square candlelight vigil tonight. pic.twitter.com/0ezsKNbmER — My Daughter's Army (@mydaughtersarmy) November 14, 2015
Brave Parisians lined up to donate blood, where one man reportedly stated "they spill blood, we give blood."
Parisians queuing in order to give blood:'They spill blood, we give blood' pic.twitter.com/ATa0S90T6I — Athιna Atesoglou (@athinatess) November 14, 2015
The Washington Capitals lit up the ice in honor of France.
The National Anthem is playing, but tonight our thoughts are with Paris. 🇫🇷 #CapsFlames #PrayersForParis pic.twitter.com/AVMIs81yWf — Washington Capitals (@washcaps) November 14, 2015
New Orleans Pelicans player Alexis Ajinça, who is from France, wrote "Pray for Paris" on his shoes before his game.
Pray for my family and friends #PrayForParis pic.twitter.com/Lhhd2DQudX — Alexis Ajinça (@AjincaAlexis42) November 13, 2015
The arch of Wembley stadium in London was lit with French colors to show respect for the victims of the attacks.
The arch lit up at Wembley stadium for the victims in Paris tonight! #PrayForParis 👏🇫🇷 pic.twitter.com/8AXoGByXP7 — Footy Away Days (@FootyAwayDays_) November 14, 2015
People in Moscow brought flowers and candles to the French embassy.
We grieve together with our French friends... Flowers at the French Embassy in Moscow #Paris #PrayersForParis pic.twitter.com/jP75a76DPe — Elena Sevalneva (@koti4ka_neof) November 14, 2015
Mexico City was also among the many cities across the globe that stood in solidarity with France on Friday night.
The Angel of Independence in Mexico City for Paris 🇫🇷🇲🇽 pic.twitter.com/FZeqBpGGaG — Jay Z(amora) (@Jay_MCMLXXXIX) November 14, 2015
People in the Scottish city of Glasgow gathered on Saturday to show their love and support for Paris.
Vigil for #Paris in Glasgow city centre. pic.twitter.com/w2lksjXBJm — Storm Haggerty (@AngelaHaggerty) November 14, 2015
As long as we stand together there is always hope.
This was Paris after 9/11. In tough times we must stand together. 🇺🇸🇫🇷❤️ pic.twitter.com/WpvU8VSs0u — Matt Lauzon (@mattlauzon) November 13, 2015
Peace for Paris. The world is with you.
Peace for Paris pic.twitter.com/ryf6XB2d80 — jean jullien (@jean_jullien) November 13, 2015
Citations: Parisians defiant after attacks They spill blood we give blood (Mashable), Paris attacks Death toll rises to 127 French president blames Islamic State (LA Times)