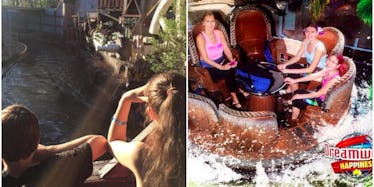 People Are Sharing Eerie Pics Of Themselves On Theme Park Ride That Killed 4
Instagram
People are posting Instagram photos of themselves riding the Thunder River Rapids at Dreamworld in the aftermath of an accident that left four dead.
Kate Goodchild, her brother Luke Dorsett, his partner Roozi Araghi and their family friend Cindy Low were killed when a raft flipped over at the theme park in Gold Coast, Queensland, Australia.
Two children, aged 10 and 12, were also on the raft, but they survived. One of them screamed in horror as she watched her mother drown, reports The Daily Telegraph.
Now, people are paying tribute by posting memories of their time at Dreamworld on social media.
Instagram user "jazzy_atki" uploaded a photo of herself lining up for the ride.
She wrote,
What a tragedy, this is my brother and I lining up for the Thunder River Rapids ride that recently killed four people at Dreamworld.. Crazy, my heart goes out to the victims families
A post by another Dreamworld guest read,
So many cherished memories here growing up and to think that my sister and I have been on that ride a few weeks ago scares me. My heart goes out to all those who have been affected by this tragedy.
Queensland Ambulance Service's acting supervisor, Gavin Fuller, said in a press conference on Tuesday that initial reports pointed to a malfunction on the conveyer belt.
Two of the people are believed to have been crushed by the raft, while the other two became trapped in the belt.
Dreamworld will remain closed while the investigation takes place. Authorities will begin analyzing CCTV footage of the accident.
Yesterday, we reported how a woman posted an eerie review of Dreamworld just days before the accident.
Tracey Christensen warned on the Dreamworld Facebook page, "Someone will get seriously injured or killed one day."
She was complaining about numerous ride closures due to maintenance issues during their visit.
Only 15 days later, the raft overturned on the Thunder River Rapids conveyer belt.
She wrote,
Went to go on the tower of terror, almost to the top and we hear.. "sorry everyone there's an operational issue and we are waiting for maintenance".. we left that ride real quick, then went on puss in boots maintenance issue. Then went to the wipeout sorry operational issues, the kids get off the claw and said one of their belt buckles come undone right up in the air. I told the attendants they didn't listen.
Tracey claims she was told by a manager how the belt buckles are an added safety measure installed by the park, but rides are still safe without them.
She concluded with the warning,
I paid $400 to get yearly passes and all I want now is my money back because having 5 rides with operational issues is not good enough. Someone will get seriously injured or killed one day!
The theme park said on its Facebook page that staff are "deeply shocked and saddened" by the accident.