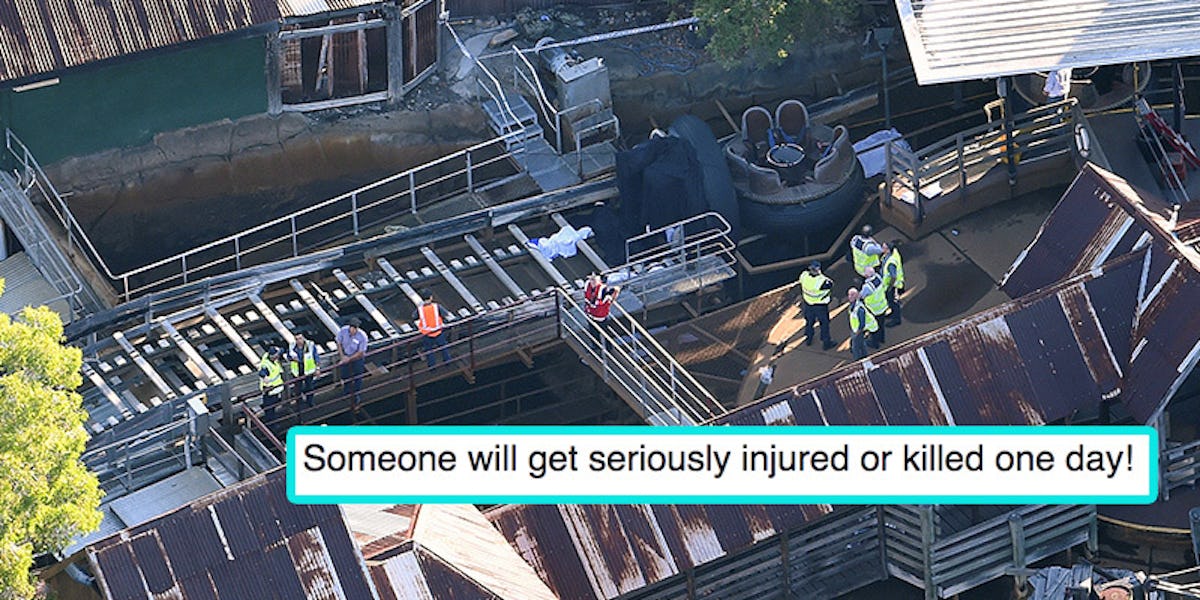 Eerie Facebook Review Predicted The Tragic Water Park Crash That Left 4 Dead
REUTERS
A woman posted an eerie review of Dreamworld, a theme park in Australia, just days before four people were killed on the park's Thunder River Rapids ride.
Tracey Christensen warned on the Dreamworld Facebook page "someone will get seriously injured or killed one day," after complaining that numerous rides were closed due to maintenance issues at the park in Gold Coast, Queensland.
That was on October 10 -- and 15 days later, two men and two women were crushed and drowned when a raft overturned on the conveyer belt.
Two children, aged 10 and 12, were also on the raft and survived. A girl screamed in horror as she watched her mother drown, reports The Daily Telegraph.
In the damning Facebook review, Tracey explained she went to Dreamworld with her kids, but they were repeatedly turned away from rides because of operational issues.
She wrote,
Went to go on the tower of terror, almost to the top and we hear.. "sorry everyone there's an operational issue and we are waiting for maintenance".. we left that ride real quick, then went on puss in boots maintenance issue. Then went to the wipeout sorry operational issues, the kids get off the claw and said one of their belt buckles come undone right up in the air. I told the attendants they didn't listen.
After she told the manager about the issue, she claimed the ride was kept open. She was told the belt buckle is an "added safety feature" and the ride is safe without it.
She finished her review by saying,
I paid $400 to get yearly passes and all I want now is my money back because having 5 rides with operational issues is not good enough. Someone will get seriously injured or killed one day!
Dreamworld is currently closed while an investigation takes place.
The theme park said on its Facebook page that staff are "deeply shocked and saddened" by the accident.
Authorities are reviewing CCTV footage of the incident.
Citations: The Daily Telegraph