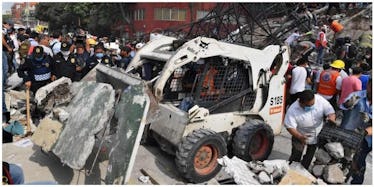 Terrifying Videos Capture The Deadly Mexico Earthquake That Killed At Least 149
YURI CORTEZ/AFP/Getty Images
Earlier today, Sept. 19, a 7.1 magnitude earthquake rocked central Mexico, including the 20 million-resident capital, Mexico City. Videos and photos of the earthquake in Mexico give some idea of the devastation, but the story will continue to develop as Mexico takes stock of the full extent of the damage in the coming days and weeks. As of 9:40 p.m. ET, the death toll had risen to 149, according to the Associated Press, with that number expected to rise. At least 49 of those deaths occurred in Mexico City, according to reports.
Secretary of the Interior Miguel Ángel Osorio Chong declared an "extraordinary emergency" as a result of the quake.
According to the U.S. Geological Survey, the quake was centered near Raboso, in the state of Puebla, about 76 miles southeast of Mexico City. The state of Puebla, which has a population just under 6 million, has reported at least 26 deaths.
Several buildings have collapsed as a result of the quake. Officials have so far identified at least 44 points throughout Mexico City where buildings were either badly damaged or had collapsed -- to say nothing of the rest of central Mexico.
The quake came only days after an 8.1 magnitude earthquake struck off the southern coast of Mexico late on Sept. 7. At least 95 people died in that quake. Several buildings were reduced to rubble, and the quake triggered a tsunami and at least 12 aftershocks, according to CNBC. It was reportedly one of the largest earthquakes recorded in Mexican history.
But even more devastating, the Sept. 19 earthquake occurred on the 32nd anniversary of an 8.1 magnitude earthquake in 1985 that struck Mexico City. That quake left at least 5,000 dead, 100,000 homes reduced to rubble, and millions without power or potable water, according to The Guardian. Recollections of the quake tell of a city essentially razed to the ground.
The death toll from the Sept. 19 quake is the largest number of earthquake-related fatalities in Mexico since the 1985 quake, according to the AP. Needless to say, Mexico is reeling, and it's hard to understand the extent of the damage, even with photos and videos.
Several have posted videos of buildings collapsing as nearby individuals ran for their lives. (Warning: these videos may be disturbing to some individuals.)
One video shows the interior of an office building violently shaking as the quake rocked.
Another video shows boats in Xochimilco, a southern Mexico City borough, rocking as the quake strikes.
Canadian Prime Minister Justin Trudeau has already explicitly promised aid to Mexico, tweeting, "Devastating news from Mexico City. My thoughts are with those affected by today's earthquake - Canada will be ready to help our friends."
President Donald Trump has likewise tweeted about the disaster.
He wrote, "God bless the people of Mexico City. We are with you and will be there for you." The language is vague enough that it could be along the lines of "thoughts and prayers." It could also be interpreted as an offer of disaster relief, but given that Trump did not offer to help Mexico after the Sept. 7 earthquake and subsequent tsunami -- which led Mexico to rescind their offer to help Hurricane Harvey victims so they could take care of their own citizens -- it's hard to tell what the tweet means.
Diario Récord, a Mexican sports website, posted on social media a video of a dog being rescued from a crumbled building as onlookers cheered, a moment of relief in the midst of an otherwise shocking and traumatic event.
Additionally, residents helped military and police officers in rescue operations, according to Fusion reporter Rafa Fernandez.
Mexico sits at the confluence of three large tectonic plates, which accounts for its heightened seismic activity, according to Business Insider. Mexico City is particularly vulnerable, as it sits on top of a lake bed; its soft soil "acts as an amplifier for tremors, often making smaller earthquakes feel much larger."
Similarly, Los Angeles, which sits atop several fault lines, experienced a 3.6 magnitude earthquake late on Monday, Sept. 18, according to The Los Angeles Times. In light of the two quakes, the Times put together an earthquake preparedness explainer for those interested.
So, for those in the area, maybe now's the time to start looking those over. In the meantime, organizations like Red Cross Mexico, Oxfam Mexico, and more, are accepting donations for those in need, according to Mashable.
Oxfam has created a fund earmarked for earthquake response for donors who want to guarantee their money goes to helping those in Mexico.