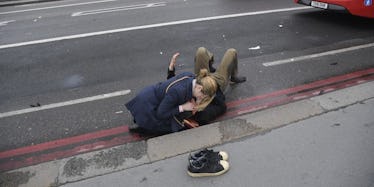 Photos Of Brave Strangers Helping London Terror Attack Victims Will Give You Hope
REUTERS
Inspirational photos of people helping the injured during the March 22 terror attack in London are emerging as the defining images of a dark day.
Four people, including the attacker, were killed, and about 40 were injured when a man drove an SUV into pedestrians on Westminster Bridge before running into the grounds of the Palace of Westminster.
London — and the wider world —  is reeling from the horrific attack, but the response and resilience of the British public, tourists and the emergency services is being celebrated.
Powerful images from the scene show how people walking by risked their own safety to do whatever they could to help injured strangers.
Westminster Bridge, a popular tourist spot in one of the busiest parts of central London, became the scene of an impromptu lifesaving operation.
Police vehicles and ambulances rushed to the scene, while medics from nearby St Thomas' Hospital reportedly sprinted out of the building to get there as quickly as possible.
Meanwhile, a politician who was in Parliament when the attack happened outside is being hailed as one of the heroes of the day.
Tobias Ellwood, a foreign office minister, was pictured attempting to save the life of Officer Keith Palmer, who was fatally stabbed by the attacker.
Palmer was one of the four people who died at Westminster, but Ellwood, a former solider whose brother was killed in a terrorist bombing in Bali, rushed out of the House of Commons to help him.
Ellwood, who was photographed with blood on his forehead, gave the injured man CPR and attempted mouth-to-mouth resuscitation until paramedics arrived.
But while he is worthy of high praise, we do not know the names of other witnesses and passers by who acted equally heroically and instinctively.
The suspect has not yet been identified, but Prime Minister Theresa May said he was born in Britain.
After crashing his car in front of Parliament, he rushed through the gate of the palace armed with two knives. It was there that he murdered Police Constable Palmer.
In total, he killed three people before being shot dead by police.
May said the injured includes 12 Britons, three children from France and people from the US, Romania, South Korea, Greece, Germany, Poland, Ireland, China and Italy.
Citations: Kindness of strangers witnessed amid chaos of London terror attack (Metro)