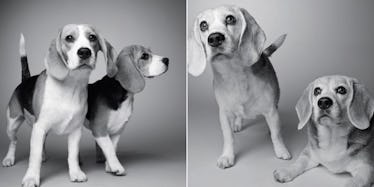 This Touching Photo Project Captures Beloved Dogs As They Get Older
Dog Years: Faithful Friends, Then & Now
Caution: You're GOING to end up baby talking to your computer screen in just a few seconds.
For photographer Amanda Jones, watching her dog, Lily, age inspired more than just affection, Daily Mail reports.
The photographer, who snapped shots of dogs in the past, followed up on her earlier work and took another round of photos for a book called "Dog Years: Faithful Friends, Then & Now," which documents the lives of her 30 four-legged subjects and how they changed over the years.
Here is Audrey at a frisky 3 years old…
…and again at a dignified 12 years old.
Poppy looks cute and floppy with only a year of life under his belt…
…and beautiful and soft at 7 years old.
Lifelong pals Sydney and Savannah modeled for Jones when they were 16 months and 5 months old…
…and ended up with another duo shoot years later at 10 and 9 years old.
Jones' book is more than just a collection for the coffee table.
Along with her touching photos are stories that give readers insights into the dogs' lives and relationships with their owners.
Maddy was first photographed at 5 years old...
…and again at 10 years old by Jones.
In the book, Maddy's owner, Clare Matschullat, shares stories of the struggles she and Maddy overcame together.
Clare recalls,
While raising each other, we faced my [hospitalization] for complications from leukemia, a year of rehabilitation, my parents' divorce, moving to New York, graduate school, and her diagnosis and treatment for lymphoma. It's the two of us against the world.
Jones, who committed 20 years to creating "Dog Years," suffered the passing of Lily while creating the book. She claims she is not the only one to have suffered loss throughout the project.
Jones says,
Some dogs had been lost to illness and accidents. Most are living amazingly long, happy lives in perfect surroundings.
There is one element, however, Jones insists withstands time.
She professes,
One thing that remains constant is the love people and dogs have for each other. That does not change, no matter how many dog years go by.
Dog lovers looking to pick up "Dog Years" for themselves can find it at Barnes & Noble or Amazon. Check out the video from Jones' photo shoots below.
Citations: It's a dog's life! Heart-melting pictures of our faithful friends growing from puppyhood to old age (Daily Mail)