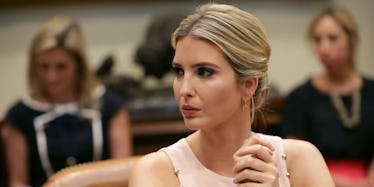 People Are Waiting For Ivanka Trump's Reaction To The Barcelona Van Crash
Chip Somodevilla/Getty Images
UPDATE: Ivanka Trump has finally responded to the Barcelona van crash via her Instagram page. She wrote, "Deeply saddened by the ongoing acts of terrorism across the globe. Terror anywhere imperils freedom everywhere. My thoughts and prayers are with #Barcelona victims and their families."
See the post below.
EARLIER: This has been an insane week as far as news goes. White supremacists took over Charlottesville, Virginia, to protest a Confederate statue coming down and one person was killed. The chaos has continued, because a van was used to plow into a crowd in Barcelona, Spain, on Thursday, Aug. 17. This act of terror has left 13 people dead and dozens injured -- and many have taken to their social platforms to share their sentiments about what's going on. But we're still waiting for Ivanka Trump's reaction to the Barcelona van crash.
Trump has stayed silent on social media in the aftermath of the attack, much to the shock and surprise of her many followers on social media. The oldest Trump daughter, and her father's political confidant, has been vacationing with husband Jared Kushner and her children in Vermont. According to a report from The New York Times: "Mr. Trump's daughter Ivanka and son-in-law, Jared Kushner, urged him to take a more moderate stance [on Charlottesville], according to two people familiar with the situation. But as with so many other critical moments in Mr.. Trump's presidency, the two were on vacation, this time in Vermont."
Unfortunately, it's not the first time that Ivanka has been out of town in the aftermath of her father's troubling, tone-deaf comments in response to global atrocities.
"The United States condemns the terror attack in Barcelona, Spain, and will do whatever is necessary to help. Be tough & strong, we love you!"
"Thoughts and prayers to #Barcelona."
"My heart goes out to the people of #Barcelona. Praying for all of those lost and injured in today's attack."
"My heart goes out to the victims and their families of this senseless, heinous act."
No word yet on a motive for this attack, as it is still under investigation, though officials have officially categorized what happened in Barcelona as a terrorist attack, but what we do know is many big names have made their condolences public. My question is, why is Ivanka always late on sharing her thoughts on these big moments?
Her father, Donald Trump, and step-mother, Melania Trump, have already spoken out, but Ivanka has been radio silent. This may seem like an attack on Ivanka, but we have to hold her accountable because many look to her, as a White House employee and adviser to her father, for her opinion.
This isn't the first time Ivanka seemed to be out of touch with what's going on around her, though. She has stayed silent after her father's most recent press conference about Charlottesville, she didn't speak up directly after the white nationalist rally, and she said nothing after her father's nuclear threats.
We just want you to do better, Ivanka.