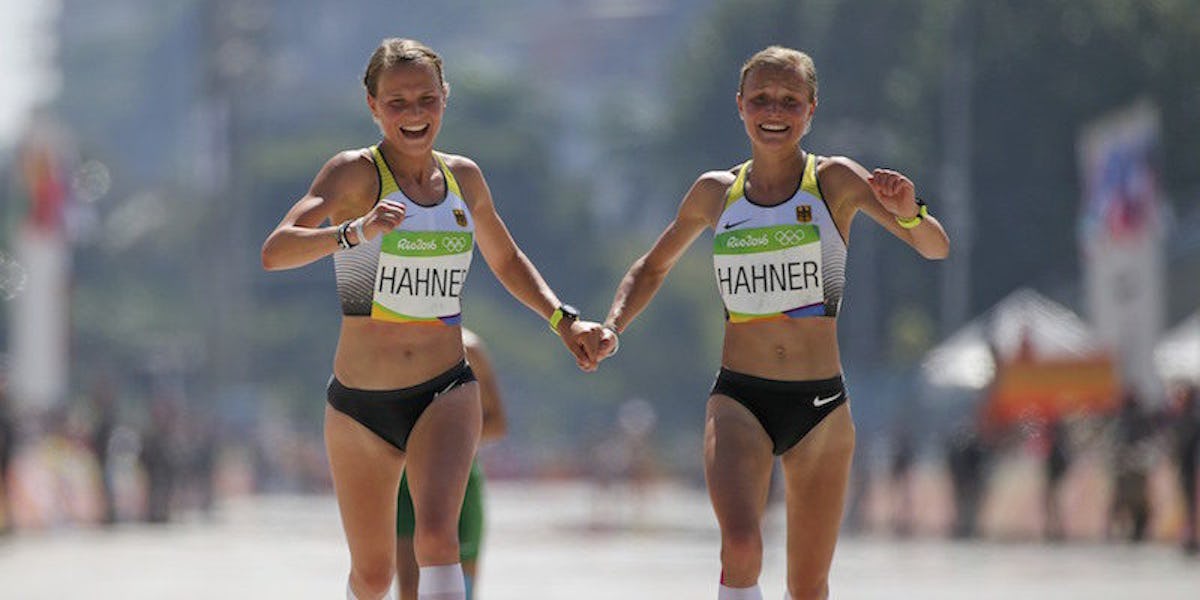 People Are Furious These Olympic Runners Finished Their Race Holding Hands
REUTERS
Two German runners, Lisa and Anna Hahner, who are twins, qualified for the Olympic marathon and traveled to Rio de Janeiro, Brazil to compete.
They didn't medal or run as strongly as they would've liked, but they finished the grueling race holding hands, presumably so neither would beat the other.
That's kind of a nice, cute story, right? That's what I thought. But alas, a lot of Germans don't agree.
In fact, many are pretty furious.
According to Cosmopolitan, the sports director of German Athletics Federation, Thomas Kurschilgen, explained the reason so many Germans were angry with this display.
He said,
The Hahner twins, Lisa and Anna, ended their Olympic marathon race more than 21 minutes behind the winner, more than 15 minutes on their best performance.
He added, "It looked as though they completed a fun run and not [an] Olympic [race]."
He suggested, considering the twins' slow times, their main goal was to cultivate attention from the media, rather than try to compete competitively.
According to Cosmopolitan, a columnist at Die Welt, a German newspaper, agreed with that sentiment, saying, "At the Olympics all athletes should go to achieve maximum performance, not the most sympathetic photo opportunity."
I find this conspiracy quite unlikely. You don't train day in and day out constantly, punishing your body, pushing yourself to the limit, to not give it your best on the day it matters.
Anna Hahner contended none of it was planned, and that they'd trained for four years to qualify and were quite disappointed they both finished the race with times far below their personal bests.
But, they took consolation in the fact that, serendipitously, they were close enough to each other they could finish the race together, holding hands.
Anna told The New York Times,
It was a magical moment that we could finish this marathon together. We did not think about what we were doing. Neither the time nor the position was what made us happy but to know that we did the best that was possible that day.
The former director of the New York City Marathon, Mary Wittenberg, thought the moment was pure "Olympism," and captured the fact that, essentially, it's not all about winning when it comes down to the Olympics.
And how could it be? After all, winners are so few and far between.
Wittenberg told The New York Times,
Yes, athletes go as hard as they can to win the shiniest medals they can most of the time. We love that, and we want to see those medal dreams come true. That said, there are moments when it's not all about that and most often, as in the case of the Hahners, it's also because that's not in the cards at a given event. So an athlete makes a conscious decision to make the most of the moment in a different way.
Personally, I feel the outrage over the Hahner twins' behavior is pretty gratuitous, and likely stems from the fact these German officials and journalists believe the Olympics should be a nationalistic endeavor, rather than a personal one.
Citations: These Twin Olympians Finished a Marathon Holding Hands, and People Are Outraged (Cosmopolitan), Twins Finish Marathon Hand in Hand, but Their Country Says They Crossed a Line (The New York Times)