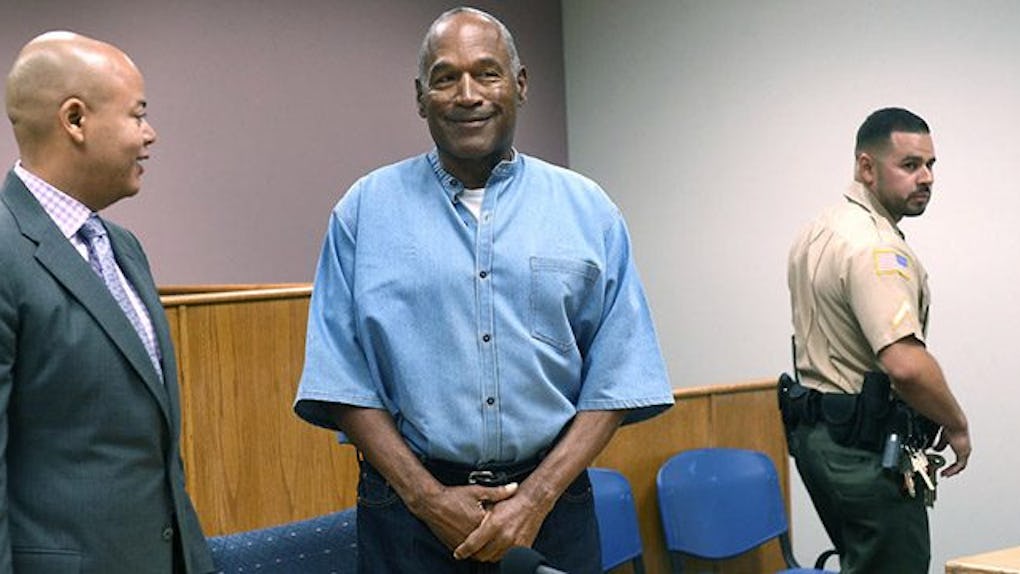 Jason Bean-Pool/Getty Images
OJ Simpson Called Himself A "Conflict Free" Person And Twitter Is Confused
One line from OJ Simpson's testimony during his parole hearing on Thursday, July 20, sparked a wave of perplexed reactions on social media.
The 70-year-old former NFL star told four members of Nevada's Board of Parole Commissioners,
I've basically spent a conflict-free life. I was never a guy who got into fights on the street.
Viewers, including a number of members of the media, expressed their bemusement about Simpson's "conflict-free" comment in a series of tweets.
CNN anchor Brianna Keiler directly pointed out what others had only alluded to in their tweets.
The assertion that Simpson's life has been conflict-free is itself in conflict with the numerous allegations of him physically harming his ex-wife, Nicole Brown Simpson. Simpson denied beating his wife during the 1996 civil trial about the deaths of Brown Simpson and Ron Goldman.
Various police reports detail those accounts, including one notable incident which occurred in early 1989, according to the Los Angeles Times. On that occasion, police visited Simpson's mansion to respond to a report of domestic violence, their ninth time doing so.
When police arrived, they found Brown Simpson bruised and hiding in bushes, according to police reports. She then ran towards officers, telling them,
He's going to kill me, he's going to kill me. She kept saying: 'You never do anything about him. You talk to him and then leave.
Brown Simpson would eventually require hospital treatment. Four months after that incident, Simpson was arrested and pleaded no contest to charges of spousal abuse, according to the New York Times. He was sentenced to 120 hours of community service and two years' probation by Ronald Schoenberg, a municipal judge. Simpson was also fined $200 and ordered to give $500 to a shelter for battered women.
The subject of alleged abuse within Simpson's marriage was notably examined during the 1995 trial regarding the murder of Brown Simpson and Goldman.
During the trial, prosecutors presented 85 pages of documents in which friends of Brown Simpson described over 50 incidents between the couple. Within the documents, Brown Simpson's mother, Juditha Brown, quotes her daughter as having allegedly said,
I'm scared. I go to the gas station, he's there. I go to the Payless shoe store, and he's there. I'm driving, and he's behind me.
Simpson was acquitted in the criminal trial regarding his ex-wife's murder. Two years later, at the conclusion of a civil trial, Simpson was ordered to pay millions of dollars in damages to the families of Brown and Goldman.