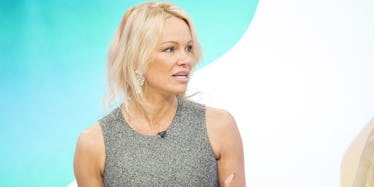 Pamela Anderson Will Campaign For Men Falsely Accused Of Rape And We Have Questions
REX/Shutterstock
Actress and icon Pamela Anderson has come forward in a bizarre statement saying she will be campaigning for men falsely accused of rape.
This decision comes after the "Baywatch" beauty recently befriended the founder of Wikileaks, Julian Assange, who is facing rape allegations in Sweden.
"Sweden has these very progressive laws against sexual crimes, whatever you want to call it," Pamela explained to Afshin Rattansi at a Vivienne Westwood event for climate change. "It's almost too progressive, it's almost paralyzing."
Catch her full statement in the video below:
Assange, 44, is currently wanted for questioning on a specific allegation made in 2010, according to MailOnline. Anderson visited him upwards of six times in the past five months.
"When you read the actual case, and you read everything about it, there's no crime that's been committed," Anderson continued. "There are also a lot of men who are in a vulnerable situation, and [are being] politically bullied."
Why is Anderson's statement of support so controversial?
Well, aside from the fact Anderson is a childhood rape survivor herself, statistics like this one from the National Review show the unlikelihood of untrue rape allegations: Only 2 to 8 percent of rapes that are reported are false.
Additionally, according to the Rape, Abuse & Incest National Network (RAINN), rape survivors generally feel is it NOT in their favor to report their sexual assault, due to their fear of retaliation or the police not being able to help or protect them.
A spokeswoman from Rape Crisis England and Wales told Metro.co.uk,
Hundreds of thousands of people are raped, sexually abused and sexually assaulted in England and Wales alone every year. The majority of victims and survivors of these crimes experience wide-ranging, often long-term and devastating, impacts, including serious mental and physical health issues, financial and family problems. Many of them tell no-one about their experiences at the time and the majority choose never to report to the police, often due to feelings of shame, self-blame and fear. By contrast, the Crown Prosecution Service has found that so-called false allegations of rape are very rare.  
Right now, Assange is seeking safety in the Ecuadorian embassy in London. However, this is causing shaky ground with Ecuadorian leaders who have concerns about Assange interfering politically with countries they have positive relationships with.
Their exact concern? WikiLeaks' role in releasing compromising emails from Democrats working for Hillary Clinton, essentially making the site look "guilty" in backing Donald Trump.
In short, the odds of Assange's innocence are not exactly in his favor.
Citations: Pamela Anderson says she'll campaign for men 'falsely accused of rape' Read more: http://metro.co.uk/2017/02/22/pamela-anderson-says-shell-campaign-for-men-falsely-accused-of-rape-6465310/#ixzz4ZQg5DDyC (Metro.co.uk), Pamela Anderson announces she will campaign for men falsely accused of rape as her friendship with sex assault suspect Julian Assange continues to blossom Read more: http://www.dailymail.co.uk/news/article-4249084/Pam-Anderson-says-supports-men-falsely-accused-rape.html#ixzz4ZQsp2k1T Follow us: @MailOnline on Twitter | DailyMail on Facebook (MailOnline)