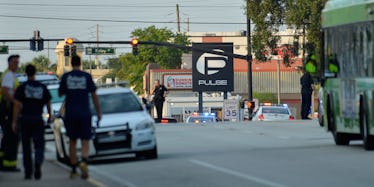 Orlando Gunman's Father Says Son Was Angered By Gays Kissing, Not Motivated By Religion
REUTERS
The father of Omar Mateen, the shooter of a gay nightclub in Orlando, said in a statement to NBC news he believes his son was not motivated by religion, but by the anger he felt when he saw two gay men kissing.
Seddique Mir Mateen told NBC News his son saw two men kissing in downtown Miami a couple of months ago, which he believes caused the shooting to happen. He apologized "for the whole incident" and is "in shock like the whole country." He also said, in regard to speculation that his son reportedly pledged to ISIS while on the phone with 911 before the attack, "this has nothing to do with religion."
President Obama echoed similar statements when he addressed the country Sunday afternoon and called the massacre "an act of terror and an act of hate."
He said,
This is an especially heartbreaking day for our friends — our fellow Americans — who are lesbian, gay, bisexual or transgender. The shooter targeted a nightclub where people came together to be with friends, to dance and to sing, and to live. The place where they were attacked is more than a nightclub — it is a place of solidarity and empowerment where people have come together to raise awareness, to speak their minds and to advocate for their civil rights.
A mass shooting is always heartbreaking. But a mass shooting at a gay club at the height of Pride Month is something else entirely.
Citations: Orlando Nightclub Shooting: Mass Casualties After Gunman Opens Fire in Gay Club (NBC News)