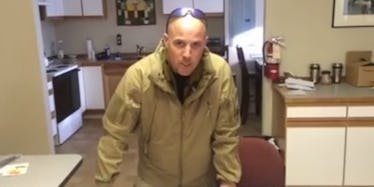 People Sent Oregon Militants A 'Bag Of D*cks' And Other Bizarre Hate Mail (Video)
The militants occupying an Oregon federal building are not pleased with the abundance of phallic things they have received as of late.
According to Huffington Post, militant Jon Ritzheimer posted a video to Facebook on January 11 showing several boxes of hate mail atop a table.
Within these packages were what appears to be a giant dildo and something Ritzheimer said was "a bag of dicks."
Referring to those who sent the packages, he said,
Rather than going out and doing good, you know, they just spend all their money on hate, and hate, and hate and hate.
If Ritzheimer replaced the word "money" with "time," he'd probably find some common ground with his haters.
It's sad that there are people who would spend this kind of money on this rather than spending it to do good in the world. I'm done living in fear of an oppressing force. I'm going to uphold my oath to the Constitution and sleep great at night knowing that I did everything in my power to ensure what our founding fathers did for us will not be lost. To my family, I love you very much and I am sorry I can't be there with you. Please look at this as a deployment, only this time I'm actually serving my country rather than being sent over seas to line the pockets of corrupt politicians. It is our sacrifice as a family that will make this country great again, not some election. And we are not alone. I am among some of the most honorable, and selfless people I have ever met. People who are dedicated to making the same sacrifice for this country. Read the constitution people. Get educated and don't let your rights be taken. If your a Patriot and you feel the calling in your heart then all I can say is follow your heart. Don't let the fear consume you. We all have lives but if we don't make the sacrifice what kind of country are we leaving for our children. The status quo can't go on any longer. We either take a stand against tyranny or we fail. Come be a part of history. And I am so proud that our country has become civilized enough that we can bring about change and right this wrong without any bloodshed. America is blessed. Posted by Jon Ritzheimer on Monday, January 11, 2016
In the video, after pushing the mail off the table, Ritzheimer declared,
We're not gonna let all your junk and hate mail sidetrack us.
He then addressed "the rest of you patriots out there that are still twiddling your thumbs" and asked them to join the militia, or as Ritzheimer called it, "history in the making."
The armed militants have been living at the Malheur National Wildlife Refuge since January 2, demanding the federal government relinquish control of nearby land.
Yesterday, the group revealed a meeting will be held on Friday to discuss when the militants plan on leaving, OregonLive reports.
The occupation is led by Ammon Bundy, the son of a Nevada rancher who was once involved in an armed standoff with federal authorities due to a land dispute.
Citations: Someone Sent The Oregon Militants An Actual Bag Of D*cks (Huffington Post), Oregon standoff: Militants say they'll reveal exit plan Friday (OregonLive)