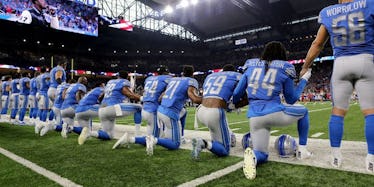 This One Tweet About The Take The Knee Hashtag Is So Important
Rey Del Rio/Getty Images)
Fall is officially here, and with it comes the seasonal standbys — yes, pumpkin spice lattes for sure, but also football. The season officially started on Thursday, Sept. 7, but it was just this Sunday, Sept. 24, when it really became the thing all of America was talking about. On Sunday, Twitter exploded with the Take The Knee hashtag in opposition to President Donald Trump's tweets about the NFL.
Early on Sunday morning, President Trump tweeted out a condemnation of football players who sit or kneel during the national anthem. Among other messages, Trump tweeted, "If NFL fans refused to go to games until players stop disrespecting our Flag & Country, you will see change take place fast. Fire or suspend!" It followed comments he had made on Friday night at a rally for Alabama Senator Luther Strange, where he called on the NFL to fire players who protested during the anthem. He said in part, "Get that son of a b*tch off the field right now, he's fired. He's fired!"
The tweets seemed to be in response to former San Francisco 49er quarterback Colin Kaepernick, who made headlines during last year's football season for kneeling during the national anthem as a way to protest racism and police brutality against Black Americans.
In response to the tweet, a number of players seemed to call out the president on social media, including New England Patriots' Tom Brady and Green Bay Packers' Aaron Rodgers, who both posted Instagrams promoting "unity" and "brotherhood." And throughout the day, members of football teams around the country chose to stand — well, kneel — in solidarity with the movement. Though last week only six players had chosen to participate in protest, on Sunday more than 150 players sat, knelt, or raised fists to show their support, per the Associated Press. And on social media, #TakeTheKnee trended on Twitter all day, as people weighed in on the debate or shared photos of themselves kneeling in solidarity with the protest. 
But there were a couple of people who spoke up to remind us all of something really important — what taking a knee is meant to stand for in the first place.
Even though the hashtag got attention from Trump's tweets, it's not simply a generic push against Trump and what he stands for, or even about the right to speak out regarding politics. The protest, as started by Kaepernick, has always had a very clear and precise meaning: it's meant to stand against police brutality and systemic racism, and to support the Black Lives Matter movement.
In an interview with NFL Media back in August of 2016, Kaepernick said explicitly that it was about race. He said,
I am not going to stand up to show pride in a flag for a country that oppresses black people and people of color. To me, this is bigger than football and it would be selfish on my part to look the other way. There are bodies in the street and people getting paid leave and getting away with murder.
And now that the hashtag is blowing up, it's important to remember what the protest is about at its core.
Much of the pushback against the protests has been on the basis that some believe that the protests are disrespectful to the flag, the country, or veterans, depending on who is making the argument. For some, it was framed as a free speech issue — about whether demonstrating athletes were in the right to exercise their free speech rights to protest during games, or whether they should, as Trump espoused, be fired.
President Trump, for his part, told AP reporters as he prepared to board Air Force One that the protests were "very disrespectful to our country."
"This has nothing to do with race," he said. "This has to do with respect for our country."
But plenty of people were willing to push back against the idea that it's all about respect for the flag (or country, or veterans).
Because I mean seriously, when you can get yourself an American flag beer pong table, American flag bikini, or American flag drink holster (????) I have to say that a peaceful protest supporting the rights of fellow Americans isn't exactly crossing the line.
I suppose, to give it credit, the arguments against the protests do have one thing kind of right — at its heart, the protest symbolized by the Take The Knee hashtag is about respect. But not about showing respect for the flag, or the country. It's about how much respect the country gives out in return, and to whom.
And that's worth paying attention to.
Check out the entire Gen Why series and other videos on Facebook and the Bustle app across Apple TV, Roku, and Amazon Fire TV.