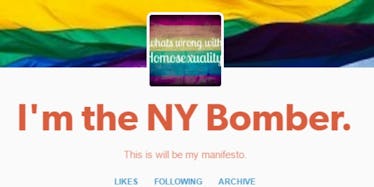 Apparent NY Bomber 'Manifesto' Surfaced On Tumblr And Is Under Investigation
Tumblr
The NYPD is currently investigating a Tumblr page that claims to be the "manifesto" of the New York bomber, a police source reportedly told the Daily News.
The page, called "I'm the New York Bomber," was removed shortly before 2 pm. Cache data shows the page was published earlier today.
The person claiming to be the New York bomber wrote two posts. Both seem to imply the bombings were meant to bring attention to LGBTQ+ rights and that the explosions on Saturday evening would be followed by further attacks.
The first post, entitled "Manufacturing Test Explosives," says,
Hi. You probably have all seen the news by now, the explosives detonated in New York City, that was me. Those were just some tests, I know where I have made errors and I will not make the same mistake next time. I did it because I cannot stand society. I cannot live in a world where homosexuals like myself as well as the rest of the LGBTQ+ community are looked down upon by society.
Roughly an hour later, a second post was published with the title, "Taking a human life."
It read,
I don't know exactly how I feel about taking human lives. However, what I do know is that if I don't do what needs to be done nobody will pay attention. LGBTQ+ people are much more likely to commit suicide than straight cisgendered people. It seems that nobody cares, however what if people from the LGBTQ+ community started lashing out in response to the violence and oppression we face with violence and possibly oppression? I'm sure that would give people a reason to not stand by while so many people are being oppressed. I suppose I'm just going to have to move forward knowing that what I am doing had a purpose and will in fact make a difference. I'll keep you all posted.
The blog was reportedly first tweeted by an Infowars editor who claimed the writer was an anti-Trump social justice warrior.
Purported manifesto was first tweeted by INFOWARS editor https://t.co/s1xGJ4CxFV — Justin Miller (@justinjm1) September 18, 2016
The New York Police Department is currently investigating the page and has not yet made any official statement about how credible it is.
The explosion that struck Chelsea Saturday evening left 29 injured.
Speaking at the scene this morning, Governor Andrew Cuomo called the bombing an act of terrorism.
Update 9:15 am: A law enforcement official told the Associated Press the purported manifesto is not credible or relevant to the case.
Citations: NY Daily News