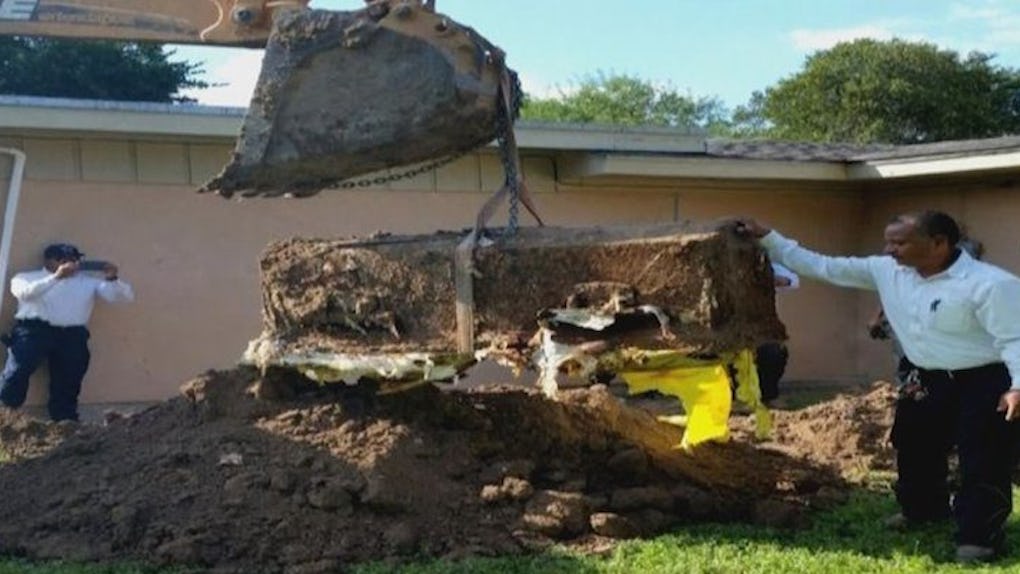 Twitter
Nightmare On Elm Street: Woman Finds A Coffin Buried In Her Backyard
A woman found a coffin buried in her backyard just after moving into a new home.
According to KGBT, the discovery was made by workers hired by Deedee Oliveira as they were digging to begin renovations outside her Mission, Texas home last Tuesday.
After making contact with an unknown, hard object, the workers used a machine to hoist up a rusty coffin measuring about 4 feet in length.
Coffin unearthed during construction project on Elm Street https://t.co/yojuxgQWfl via @NoraKGBT #RGV pic.twitter.com/i0TPc2yUWA — CBS 4 News (@kgbt) October 22, 2015
The Mission Police Department quickly arrived at the home to inspect the coffin.
Oliveira told KGBT,
They had seen little booties and pink little bears and then one of the guys said that he had seen bones.
She was petrified to find out who or what was buried until a neighbor explained the bones belonged to a beloved family pet. The previous homeowners loved their Cocker Spaniel so much they had a funeral for the dog.
Pictures of the pet took up the rest of the space in the coffin, which neighbors say was lowered into the earth almost 30 years ago.
Oliveira may have been extra fearful of the initial finding considering her new home is on Elm Street, the place where horror character Freddy Krueger tormented and killed children in the decades-spanning franchise "A Nightmare on Elm Street."
She said,
Thank God it was a dog and not human remains, if not I think I would've gone crazy.
The coffin was soon removed from the home by the city.
Oliveira said she sees nothing strange in burying a pet behind one's home and sympathizes for the previous homeowners.
A proper burial, however, apparently was not reserved for all of the previous owners' pets; buried next to the coffin was a toolbox that opened up to reveal the bones of a cat.
Citations: Dog found in coffin unearthed from Texas woman's backyard (KGBT)