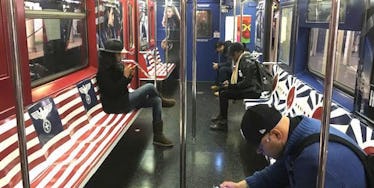 Everyone Is Upset Over These Subways Ads That Resemble Nazi Symbols (Photos)
After receiving numerous complaints from angry commuters, Amazon agreed to pull all advertising for the original series "The Man in the High Castle" from New York City subway cars.
The show, which premiered on Amazon last week, is a dystopian faux-historical narrative of America after the fictional loss of WWII to the Axis powers.
Based on a novel of the same name by Philip K. Dick, the storyline follows one brave woman as she tries to overthrow the ruling Nazi and Japanese forces and reclaim a free nation.
In celebration of the show's release, Amazon partnered with the MTA to create a massive subway car decal advertising the show.
The ad, which covers the entire inside of the 42nd Street Shuttle in Manhattan, includes images similar to Nazi Party insignia and Japanese WWII-era decals.
Understandably, the prominent display infuriated many New Yorkers.
i thought the story about amazon running the nazi symbol ads on the nyc subway was some kind of satire, but nope pic.twitter.com/9Mx9jbNpHL — joe (@anamericangod) November 24, 2015
Most feel the advertisements are insensitive and culturally ignorant.
Amazon & MTA thought it was a fine idea to plaster NYC subway with Nazi imagery. https://t.co/H7vDZYsaBa pic.twitter.com/YmXWs6lpLS — Jim Roberts (@nycjim) November 24, 2015
Despite the apparent offensive nature of the ads, the MTA ruled them compliant with all current advertising standards.
NYC Subway car decked out with Nazi Reichsadler eagle to advertise TV show: https://t.co/PT0RjAqqyH pic.twitter.com/IvyptjJTt6 — Keegan Stephan (@KeeganNYC) November 23, 2015
Nevertheless, Amazon relented and pulled the advertisements earlier today after an influx of commuter complaints.
Nazis defeated: #Amazon pulls controversial #TheManInTheHighCastle campaigns from subways. https://t.co/HXwXjbQWSC pic.twitter.com/ozZMe1RfYq — Decider (@decider) November 24, 2015
The campaign was initially slated to run from November 15 to December 14.
what do you see? https://t.co/wnSYN6RPKF Some riders question #MTA policy after ad for alt history @amazon show pic.twitter.com/NlBFrXU4e7 — Greg Mocker (@gregmocker) November 24, 2015
Citations: New York commuters furious after subway trains are transformed into Nazi carriages for new Amazon TV drama (Daily Mail), Amazon Is Pulling Its High Castle Nazi Ads From NYC Subways Pretty Much Everyone Is Okay With This (Vulture)