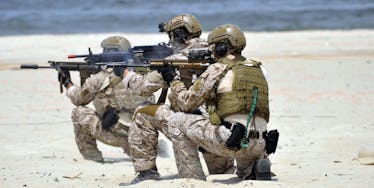 The US Navy Announces Women Will Soon Be Allowed To Become Navy SEALs
Getty Images
Women will reportedly soon be allowed to become Navy SEALs for the very first time.
According to the Navy Times, in an interview on Tuesday, Admiral Jon Greenert said if women can complete the necessary training, then it is only fair to let them join what is arguably the military's most dauntless and physically capable team.
Greenert told Navy Times,
Why shouldn't anybody who can meet these [standards] be accepted? And the answer is, there is no reason. So we're on a track to say, 'Hey look... anybody who can meet the gender non-specific standards, then you can become a SEAL.'
To become a Navy SEAL, one must pass an extremely taxing six-month course called Basic Underwater Demolition/SEAL training, or BUD/S, Yahoo! News reports. The course features eight weeks of conditioning and includes what is known as "Hell Week," a period when, reportedly, most trainees quit.
Of the training, a post on the official website of the Navy SEALs reads,
Sheer fatigue and sleep deprivation will cause every candidate to question his core values, motivations, limits and everything he's made of and stands for.
Additionally, the Army and the Air Force are expected to open all combat positions to women. The Marine Corps, however, will reportedly continue to allow only men to fill ground-combat positions.
Greenert didn't provide a specific date for when women could begin BUD/S training, but the Navy Times reports the Navy previously said all positions will be open to women by 2016.
There are currently just seven women among the Navy's 1,153 active divers.
The announcement of the upcoming move comes just one day after it was revealed two women will graduate from Army Ranger School for the first time.
Citations: Navy SEALs set to open to women top admiral says (Navy Times), US military to let women try out for Navy SEALs (Yahoo! News)