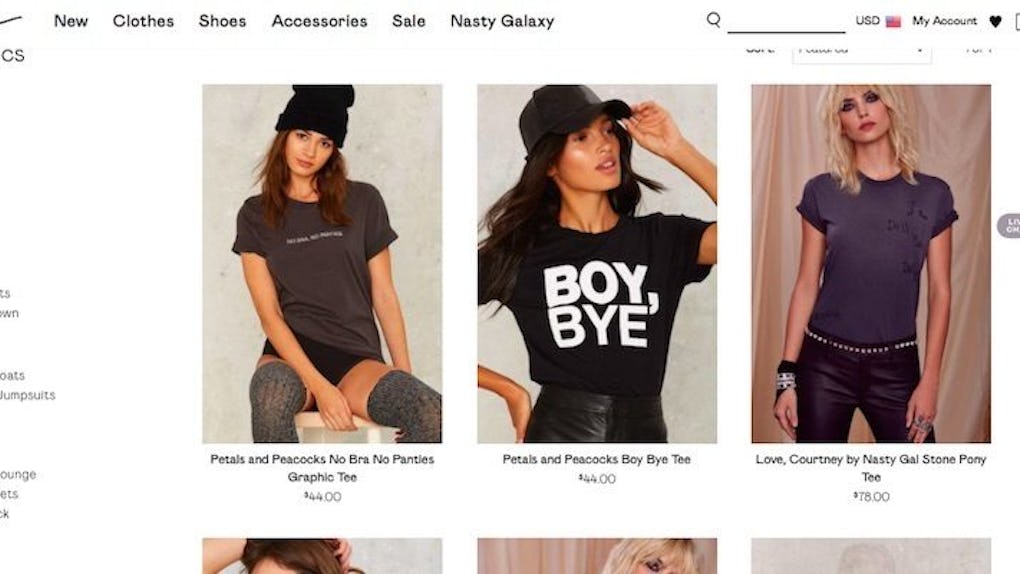 Nasty Gal
Nasty Gal Files For Bankruptcy, Sophia Amoruso To Resign
This week has been pretty disappointing for a lot of ladies.
Yesterday we learned the depressing news that a woman won't be leading the country since Hillary Clinton sadly lost the presidential election to her political opponent, Donald Trump.
If that setback in the #Girlboss movement gave you a serious case of post-election blues, you might want to cover your eyes.
It turns out Clinton isn't the only "Nasty Woman" who's feeling the agony of defeat.
Apparently, another major girl boss just bit the dust.
Women's Wear Daily just reported that Sophia Amoruso, the stylish entrepreneur behind the brand Nasty Gal, filed for Chapter 11 bankruptcy in California on Wednesday.
That's right. Nasty Gal just filed for bankruptcy and the timing couldn't be any more ironic.
Nasty Gal's CEO, Sheree Waterson, told Women's Wear Daily that filing for bankruptcy "will enable us to address our immediate liquidity issues, restructure our balance sheet, and correct structural issues."
Amoruso allegedly plans to resign as executive chairman of the clothing company after filing.
This sad news isn't the first time Nasty Gal has found itself facing hard times.
In February the company laid off about 10 percent of its employees, and then in September rumors floated around it was looking for a buyer.
Waterson said,
We expect to maintain our high level of customer service and emerge stronger and even better able to deliver the product and experience that our customers expect and that we take pride in bringing to market.
Once you finally stop sobbing and regain your composure, you might want to put down the tissues and pick up a credit card.
It turns out you still have some time left to load up your closet with Nasty Gal styles before the brand disappears.
You can stock up on crop tops...
And buy a lifetime supply of choker necklaces.
Score some slinky, satin slip gowns...
And grab a few dazzling velvet dresses to get you through the holiday season.
Or you can load up your closet with lacy co-ords....
And plunging maxi dresses that are simply mesmerizing.
Plus, it never hurts to pick up a few pairs of pom-pom clad kicks...
And buy a badass bomber jacket to fight the chill of this seriously depressing news.
Don't worry, ladies, we're going to get through this.
Citations: Nasty Gal Files for Bankruptcy (The Cut)