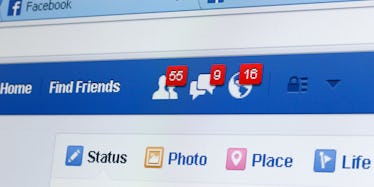 2-Year-Old Boy Tragically Drowned In Pond While His Mom Was On Facebook
Shutterstock
A British mother was unable to rescue her son from drowning because she was reportedly occupied by Facebook.
According to the BBC, prosecutors said Claire Barnett, 31, was using her cell phone inside her East Yorkshire home when her 2-year-old son, Joshua, drowned in a backyard pond on the morning of March 17, 2014.
Family members allegedly told Barnett to place a fence around the garden's ornamental pond, which is about 1.6-feet deep in some areas.
Barnett was reportedly responding to a comment on a Facebook photo she had posted while the boy played.
She went outside soon after to find Joshua lying unconscious in the pond.
Barnett administered first aid, but Joshua died in the hospital just a few hours later, Daily Mail reports.
She told police she found her son "within 10 seconds" of him falling in the pond, but it has been determined Barnett uploaded two photos and even answered a call from her boyfriend when she should have been supervising Joshua.
Prosecutor Peter Moulson said,
It is not possible to put and exact period of time he was in the pond. It may have been as short as 20 seconds. There was evidence the defendant had been on a mobile telephone in the lounge on Facebook when Joshua was at the pond. The danger present of this neglect was obvious.
The court was also told Barnett was contacted by social services in August 2013 because two of her children were nearly hit by a car as they played barefoot and without supervision.
Barnett pleaded guilty to four charges of neglect and was sentenced to five years in prison.
As he read the sentence, Judge Jeremy Richardson told Barnett,
Your lamentably appalling parenting led to fatal consequences. This is not simply a case of you providing low-quality parenting... If you should have any further children, they will almost certainly be removed from you. You pose very serious risks to any child for whom you have responsibility.
Judge Richardson further suggested Barnett observe how "good and dedicated" parents watch their children "like hawks" at duck ponds since the children could fall in at any moment.
The pond where Joshua drowned is now buried under landscaping material.
Citations: East Yorkshire mother jailed after son drowns in garden pond (BBC), Mother of four whose son, 2, drowned while she chatted to friends and posted pictures on Facebook is jailed for five years for neglect (Daily Mail)