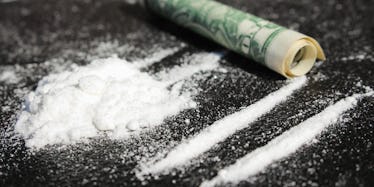 Mother Arrested For Buying Daughter 12 Bags Of Cocaine For 18th Birthday
Shutterstock
18th birthdays are a huge deal, for parents and the birthday girl (or boy). It's perfectly acceptable to want to celebrate the milestone marker with a bang — but one mother took that desire a little too far when she bought her daughter twelve bags of coke for her birthday.
And, as you've probably guessed, I'm not talking about the soda.
Yesterday, U.K. resident and "Mother of the Year" candidate Nicola Austen was tried in an English court for possession of cocaine with intent to supply. Officers made the arrest this past January, after drug-sniffing dogs led authorities to Austen's home, days before her daughter's blowout 18th birthday bash. There, they uncovered a little over five and a half grams (about $460 worth) stashed in a hidden windowsill compartment.
Austen, who has a lengthy rap sheet, pleaded guilty to the charges in exchange for a reduced sentence. She'll have to complete nine months of probation, as well as 250 hours of mandatory unpaid labor.
Despite the seriousness of the charges, Austen remains insistent that it wasn't a big deal.
She told the Daily Mail,
"It's all been blown out of proportion. I've had enough. It isn't exactly the scoop of the century, is it? It was a party."
Neighbors say they've witnessed several drug raids at Austen's home over the years; indeed, the mother of three (her youngest is just fourteen) has six previous convictions, including methamphetamine possession.
Officials hope that Austen's punishment, albeit far more lax than a typical drug-related sentence, will scare her into cleaning up her act — if not for her sake, then for the sake of her children.
Citations: A Mom Bought Her Daughter 12 Bags of Cocaine to Celebrate Her 18th Birthday (Vice News), Mum buys daughter 12 bags of cocaine for her 18th (Daily Mail)