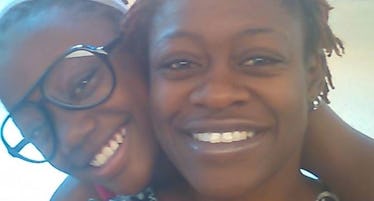 Mom Watches Daughter Kill Self On FB Live And Tells Her To 'Keep Crying Wolf'
Facebook
The mother of a Florida girl who live-streamed her suicide on Facebook Live allegedly left mocking messages on her daughter's post just moments before the teen hanged herself.
According to the Florida Department of Children and Families, Gina Caze criticized her 14-year-old daughter, Nakia Venant, as she watched the two-hour broadcast.
Under the username Gina Alexis — according to Tampa Bay Times — Caze wrote,
#ADHD games played u sad little DCF custody jit that's why u where u at for this dumb shit n more u keep crying wolf u dead u will get buried life goes on after a jit that doesn't listen to there parents trying to be grown seeking boys and girls attention instead of her books.
The mother has strongly denied ever having made such comments.
On January 22, Miami-Dade police found the young girl hanged from the door frame in the bathroom in a foster home.
Caze's relationship with Venant, a foster child, was tumultuous from the beginning.
In 2009, Venant was taken away due to allegations of physical abuse.
After that time, over the course of eight years, she spent a total of 28 months in foster care. At one point, she was passed around to 14 different homes in the span of just 16 months.
The 14-year-old was placed back in Caze's care in 2010, though she was removed again by 2014.
Later, after social workers insisted it was for the best, Venant was returned yet again to Caze's home, only to be relinquished once more by her mother a year later.
Caze did not want the teen in her home, but she maintained contact with her over social media.
On the day Venant tragically took her own life, one of her friends called the police after seeing parts of the two-hour livestream.
However, the friend gave the wrong address to responding officers, who did not make it to Venant's correct address in time.
Officers found the teen hanging from a scarf fashioned into a noose around her neck. Efforts to resuscitate her were not successful. She was later pronounced dead at Jackson Northern Hospital.
According to a brief incident report released by the DCF to the Miami Herald, Venant died just after 3 am while her foster parents were asleep in their bed.
Nakia Venant, a native of Port-au-Prince, Haiti, was enrolled in the seventh grade at Young Women's Preparatory Academy.
Gerta Telfort, a good friend of Venant's, told the Herald she was a good student with a great deal of charisma who planned on writing a book one day.
Once news of Nakia's death spread online, dozens of people took to her Facebook page to express their condolences.
According to CBS Miami, Stacie Schmerling, one of Caze's attorneys, has taken issue with the allegations made against the mother.
Schermling said,
The report contains inaccurate information. The mother was absolutely not online at any time during her daughter's suicide. She had no idea it was going on at all. The statement attributed to Naika's mother was made after Naika was already deceased but Naika's mother was told it was all a hoax — that the suicide was a hoax and her daughter was not deceased.
Caze, who claimed Venant had gone to jail twice and was expelled from two or three schools, wrote on her page,
I was showing you tough love when u misbehaved. You wasn't supposed to even have access to internet as part of your case. The system has failed us......
Citations: 'Abusive' mother of Florida girl, 14, who streamed her suicide on Facebook Live 'watched the footage and wrote that her daughter was attention-seeking and crying wolf as she killed herself' (DailyMail.com), Another girl hangs herself while streaming it live — this time in Miami (The Miami Herald), DCF: Mom Of Teen Who Committed Suicide In Facebook Live Watched Episode Unfold (CBS Miami)