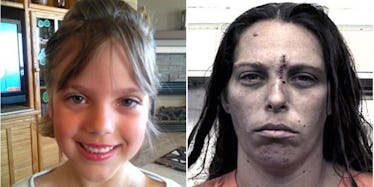 New Evidence Shows Mom Offered Daughter To Men Online For Rape-Murder Fantasy
Facebook/Albuquerque Police Department
A 10-year-old girl who was raped and murdered was previously offered online to pedophiles for sex by her own mom.
Victoria Martens, who was allegedly raped and killed by her mom's boyfriend, Fabian Gonzales, also had an STD at the time of her death -- leading authorities to believe she had suffered abuse before.
Shocking new details have emerged about Victoria, who died in Albuquerque, New Mexico, in August 2016, the day after her 10th birthday.
Her mom, Michelle Martens, told investigators she looked for men online to rape Victoria the night before her daughter's death, the Albuquerque Journal reported.
An autopsy revealed Victoria was also suffering from human papilloma virus (HPV), suggesting she had been sexually abused in the months before her death.
She also had alcohol in her system when she died, but no meth -- despite her mother previously claiming she died from a meth overdose.
Forensic reports revealed Victoria died from strangulation.
Martens, 35, is one of three people charged in connection with Victoria's death, alongside Gonzales, 32, and his cousin Jessica Kelley, 32.
It's alleged that Gonzales raped Victoria, with Martens admitting she enjoyed watching. She then had sex with Gonzales 20 minutes later.
Detectives believe Gonzales and Kelley killed Victoria. Her dismembered body was found in her mom's bathtub.
Martens previously said in a police interview that she suspected Gonzales had abused Victoria a number of times in the month before her death.
Albuquerque police spokeswoman Celina Espinoza said detectives were investigating the findings from the forensic report, adding,
They're trying to match up to their own evidence or track down new leads.
Martens, Gonzales and Kelley are in jail, and a trial is expected to take place in October.
Images of Martens from her mugshot and an earlier court hearing show her with an injury to her face, possibly after being attacked by fellow prisoners.
Citations: Victoria showed signs of earlier sex abuse (Albuquerque Journal)