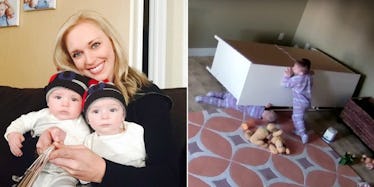 Mom Of Toddler Who Saved Twin From Falling Dresser Responds To Online Backlash
Instagram/ YouTube
After a video showing a heroic toddler pushing a fallen dresser off his brother in Utah went viral, viewers grew skeptical about the parenting behind the incident.
Although some responses have been harsh, others understand accidents happen.
However, Kayli Shoff, the twins' mother, recently talked about how she reacted when she saw the footage, People reports.
Apparently, she felt like the "worst parent ever."
In an interview that aired on Wednesday's "Good Morning America," Kayli spoke about the moment when she noticed the dresser had fallen over in their nursery via the baby monitor.
After saying she "ripped off the covers, ran downstairs, flung open the door" and found her children --Bowdy and Brock Shoff -- unharmed, she admitted she feels guilty and thinks the accident could have been prevented.
Her exact words were,
My heart sank. I honestly felt like the worst parent ever. It was such an easy thing for me that I could've done to prevent what happened to my children.
Since the incident, Kayli reportedly bolted the Ikea dresser to the wall and claims she and her husband are "completely lucky" and "blessed" their children made it out of the accident alive.
Apparently, both parents have praised Bowdy for saving his younger brother's life.
To ensure other parents take proper precautions to avoid the same thing happening to their children, Kayli's husband, Ricky Shoff, posted the video on his Facebook page.
In the description, he wrote,
I've been a little hesitant to post this. But I feel it's not only to bring awareness, but it is also incredible. We are so grateful for the bond that these twin brothers share. We know Bowdy was not alone in moving the dresser off of Brock. And feel blessed that he is ok. Please make sure all your dressers are bolted and secured to the wall. Please share.
Even though Kayli felt like the "worst parent ever" in the moment, the accident was thankfully a learning experience where no serious harm was caused.
Citations: Mom of Twins in Fallen Dresser Accident Speaks Out (ABC News), Mother of Toddler Trapped Under Fallen Dresser Speaks Out: 'I Felt Like the Worst Parent Ever' (People)