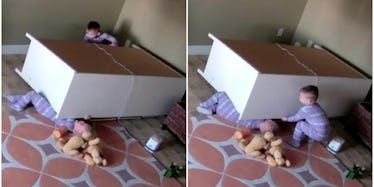 Hero 2-Year-Old Saves Twin From Being Crushed By Falling Dresser In Viral Video
Facebook
A father has shared a video showing the incredible moment when his son rescues his twin brother after a dresser falls on top of the toddler.
The footage, posted on Facebook by Ricky Shoff, shows little Brock trapped under the piece of furniture at their family home in Orem, Utah.
Brock is wailing in distress as the frightening scene unfolds.
His brother Bowdy immediately springs into action, first trying to move the dresser from behind.
With no luck and his brother pinned to the ground, Bowdy is seen thinking about how to rescue his brother before he moves to the front of the dresser and tries to push it.
Amazingly, he displays unbelievable strength and manages to slide the dresser off Brock.
He rolls out from underneath and appears unscathed.
The incident took place as the boys were playing together in their bedroom. It was caught on a CCTV camera installed in the corner of the room.
Mom Kayli had gone upstairs briefly and did not hear the dresser come crashing down or her son crying.
Ricky said he was unsure about posting the video, but wanted to raise awareness. He wrote on Facebook,
I've been a little hesitant to post this. But I feel it's not only to bring awareness, but it is also incredible. We are so grateful for the bond that these twin brothers share. We know Bowdy was not alone in moving the dresser off of Brock. And feel blessed that he is ok. Please make sure all your dressers are bolted and secured to the wall. Please share.
The post was met with astonishment by many. People thanked Ricky for sharing the video and said it served as a harsh reminder to ensure all furniture is necessarily bolted where there are children around.