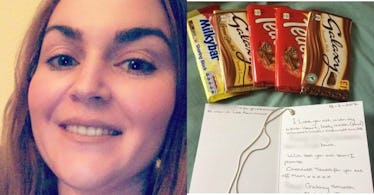 Mom Found Burned On Beach Was 'Tired Of Fighting' After Problems With Partner
Facebook
The family of a mother who left a heartbreaking Facebook post for her five children minutes before her body was found badly burnt on a beach has spoken out for the first time since her death.
Hayley Williams, 35, said her younger sister Lisa was "tired of fighting and just wanted to go to sleep" in the weeks leading up to her death.
Lisa Williams, 31, had sent her children their favorite chocolate bars, a necklace and a Valentine's Day card on February 12, shortly before her body was discovered on Newry Beach in Anglesey, Wales.
Inside the card for her children, Williams wrote,
I love you with all my Welsh heart, lovely Welsh (parcel), Valentine's treats and chocolate treats. Will see you all soon I promise. Kind hands, kind feet, nice words and sharing is caring.
Since the news of her tragic death first broke, it has come to light Williams was reportedly heartbroken after separating from her partner and losing contact with her children.
Her sister Hayley revealed to Mirror Lisa had sent a letter to the family, noting she was "battling some difficulties."
She said,
It's just the nature of what she's done, the level of what she inflicted on herself to get out of this world... As a family we are devastated and our lives have been turned upside down. Lisa was a beautiful and caring mum, daughter, sister, aunt and cousin.
Dozens of floral tributes have been left at the scene where her body was found, including a heartbreaking tribute from her father:
Our Lisa Bach. You'll always be in our hearts. Love you forever. Dad and Rachel.
Police say she suffered bad burns to her body, and she was pronounced dead at the scene.
According to the Daily Post, authorities have also said the death is not suspicious, but formal identification has yet to take place.
The coroner is currently awaiting the pathologist's report.
District Inspector Jason Higgins said,
Our thoughts are with the family at this very difficult time.
Operations manager for Holyhead Port Wyn Parry echoed Higgins's sentiment, saying,
We are very sad to hear about it, and send our condolences to her family.
Citations: 'She was tired of fighting and just wanted to go to sleep': Sister's tribute to mother who burnt herself to death on a beach after leaving a chocolate Valentine's gift for her five children (MailOnline), "Her way out was horrific:" Family's heartbreak for tragic Valentine's Day card mum whose burnt body was found on beach (Mirror), 'I love you with all my Welsh heart' ... Tragic Anglesey mum's Valentines message to her five children less than an hour before she died from severe burns (Daily Post)