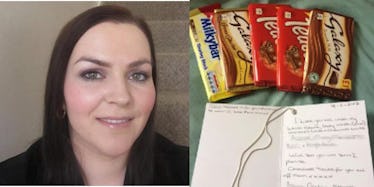 Mom Pens Tragic Valentine's Day FB Post Before Burned Body Is Found On Beach
Facebook
A mom left a heartbreaking Facebook post for her five children minutes before her body was found badly burnt on a beach in Anglesey in Wales.
Lisa Williams sent chocolate, her necklace and a Valentine's Day card to her kids on February 12 before she was discovered on Newry Beach.
The 31-year-old, who lived in Holyhead, penned an emotional note in the card with the Welsh word Cariad – which means "love" – inscribed on the front.
Inside the card for her children, Williams had written,
I love you with all my Welsh heart, lovely Welsh (parcel), Valentine's treats and chocolate treats. Will see you all soon I promise. Kind hands, kind feet, nice words and sharing is caring.
She posted pictures of the gifts on Facebook alongside a a parcel-tracker notification text she had received on her phone.
Williams wrote,
Hope this arrives in time Valentine's Day Adellé Craig Christopher Keéra Aoife bach x famous 5 xxxxx
Countless people have left touching tributes to the mom under her Facebook post. One wrote,
My heart goes out to your 5 children and all your loved ones at this awful time. R.I.P Lisa Bach xx
Police said she suffered bad burns to her body, and she was pronounced dead at the scene.
According to the Daily Post, authorities have also said the death is not suspicious, but it is believed formal identification is yet to take place.
On the day that Williams's body was discovered, a police spokesman issued the following statement:
At approximately 10:50pm yesterday, Sunday February 12 2017 Emergency Services were alerted to the discovery of a woman's body on Newry Beach, Holyhead.
According to District Inspector Jason Higgins, of Llangefni Police Station, authorities are currently in the process of locating and informing Williams's family of these tragic circumstances.
Higgins said,
Our thoughts are with them at this very difficult time.
Citations: 'SEE YOU ALL SOON, I PROMISE' Mum leaves her five kids a Valentine's card and chocolate before her body is found burnt on a beach (The Sun), 'I love you with all my Welsh heart' ... Tragic Anglesey mum's Valentines message to her five children less than an hour before she died from severe burns (Daily Post)