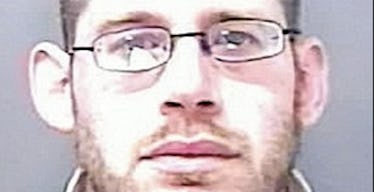 Mom Finds Out She's Dating Pedophile When Google Search Reveals Horrific Crimes
Police
A mother of four was horrified to discover her new boyfriend is actually a convicted pedophile after a Google search revealed his true identity.
Robert Wynn, 30, from North Yorkshire, and the woman first met through an online gaming site, where his username was "Robster."
After an amicable first date, Wynn was invited back for dinner. Later, he joined the mother on a couple of picnics and movie dates with her children.
According to the MailOnline, Philip Evans, a prosecutor at Hull Crown Court, said Wynn had attempted to conceal his past by saying "he was a normal lad from Hull, and that attracted her because she had lived in Hull as a teenager."
Just as the couple began to grow more intimate with one another, the relationship came to a sudden end.
Wynn said he had been evicted from his home and was moving back in with one of his parents. Shortly thereafter, the mother did a quick Google Search for Wynn's name and came upon his extensive criminal background.
The nine offenses on Wynn's record were all sex crimes, including grooming and distribution of indecent photographs. These particular crimes led him to serve a jail sentence of 18 months in 2008.
In 2011, he spent two more years behind bars after he was convicted at Hull Crown Court for making and possessing indecent photographs of children, possessing extreme pornographic materials and failing to comply with his notification requirements as a registered sex offender.
Wynn was subsequently made subject to a sexual offenses prevention order for 10 years, which he breached in 2014, landing him in prison for another 16 weeks. The order bars Wynn from being in contact with children under 16 without the informed consent of a parent or guardian.
Despite this restriction, Wynn continued to join the mother of four on a number of family outings.
Evans said the mother was "keen to point out that the children only became involved when she was ready to introduce them to the defendant."
He also noted the mother has questioned her children, and none of them have made any disclosures of improper conduct by Wynn towards them.
The woman reportedly described herself as "angry, upset and horrified" by the revelation about her ex-partner's criminal background.
Citations: Every parents' worst nightmare: Mother-of-four is horrified to find her new boyfriend is a PAEDOPHILE by searching his name on Google (MailOnline)