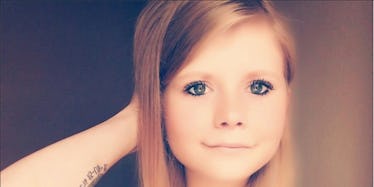 Heartbroken Mom Pens 'Death Book' About Dead Son And Ex-BF Before Suicide
Facebook
A distraught woman wrote a "death book" before killing herself after she struggled to cope with the deaths of her baby and his father.
Kirsty Farbrother, 21, was found dead by her mom, Tracey, at their home in Staffordshire, England.
Tracey later discovered her daughter's morbid scrapbook, which included drawings, pictures of her son, Reece, her ex-boyfriend, Callum Lines, and a list of her final wishes.
In the book, Kirsty wrote about how she had struggled to move on from the death of Reece, who was born premature in 2012, and Callum, who committed suicide in August 2016.
But she hid her emotions from her loved ones, who had no idea about what she was planning — even the night before her death when she sat laughing and joking with her mom.
Tracey, 46, said,
I knew Kirsty was struggling, but I never knew how bad it really was. There were even details on how she wanted her funeral. She wrote about having a dream where Callum and Reece visited her, saying they missed her and needed her. I think she thought if Callum was a part of her life, Reece would still be with here. But when Callum died, it was like her last link to Reece was gone. I had no idea she was hurting as much as she was.
Kirsty was only 17 when she became pregnant with Reece. After the 1-month-old premature baby died, she and Callum broke up.
She was devastated by the baby's death, but saw a counsellor, got a new job and appeared to have her life back on track.
But Callum — who went on to have another child — and Kirsty started messaging each other again in May 2016 and meeting up to share memories of Reece, which Tracey said was "therapeutic" for her daughter.
However, Callum found it too difficult to cope and committed suicide.
Tracey paid tribute to her "gentle, polite and kind" daughter, and said she was sharing her story to raise awareness of the effects of depression.
Citations: Revealed: Heartbreaking 'death book' written by a young mother, 21, who killed herself after losing both her one-month-old baby boy and her boyfriend in just five years (MailOnline)