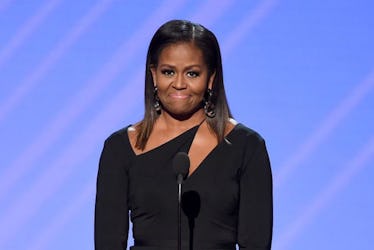 This Inspirational Tweet About Michelle Obama's Slave Ancestor Has Twitter In Tears
Kevin Winter / Staff / Getty Images
Let's face it: Anytime the 44th first lady enters the equation, people are quick to respond. Her empowering words, positive outlook, and caring demeanor have been a huge inspiration to many people. So when director Ava DuVernay tweeted a photo of Michelle Obama's slave ancestor's memorial on Aug. 5, it hit everyone right in the feels.
"Become your ancestor's wildest dreams," the tweet read. The caption was accompanied by a photo of Melvinia Shields's memorial in Georgia, which explains that the slave's "five generation journey that began in oppression would lead her descendant to become First Lady of the United States of America Michelle Obama." The monument was dedicated in 2014.
Shields was born in 1844 — 120 years before Obama — in South Carolina and was relocated to Georgia at 6 years old. Though Shields is buried elsewhere in Georgia, the memorial is located in Rex, where she served as a slave.
Once people caught wind of the inspiring message behind the tweet, responses poured in.
Some responded with similar stories of their own.
Others commented on this touching message and its significance.
Michelle is certainly not one to shy away from the importance of the women who came before her. Just last week, she tweeted a birthday message to her mother that read, "Happy Birthday Mom! Your unconditional love has made me who I am today. You are my rock. My [heart]. I will always be your Miche. I love you."
Though Michelle has without question become a successful figure in our country, she is no stranger to criticism, either.
Despite her efforts to put her country first — both in and out of the White House — Obama believes that some people will not acknowledge her accomplishments because of her skin tone.
"Knowing that after eight years of working really hard for this country, there are still people who won't see me for what I am because of my skin color," she said according to The Washington Post.
But that doesn't keep her down. She continues to fight for what she believes in and help those in our country who need it. Michelle, you are and always will be an inspiration.