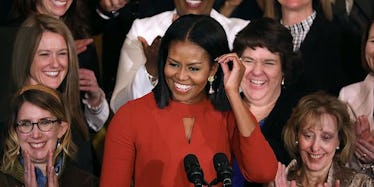 Michelle Obama's Sweet Birthday Photo For Her Mom Is Giving Twitter All The Feelings
Chip Somodevilla/Getty Images
Barack Obama's two-term presidency marked a historic time in American history. But as much as the country loved and respected the 44th commander-in-chief, his wife always managed to steal the show. So it comes as no surprise that when Michelle Obama tweeted a birthday message for her mother on July 29, Twitter swooned.
"Happy Birthday Mom! Your unconditional love has made me who I am today," the former first lady wrote. "You are my rock. My [heart]. I will always be your Miche. I love you."
Obama accompanied the message to her mother, Marian Shields Robinson, with an old-school photo that'll make you "aww". Bashful baby Michelle and her mama bear a striking resemblance to one another, and the internet fell in love. Hundreds of thousands likes surfaced, as did thousands of retweets and comments. True to form, Twitter responded with emotional messages.
The "I miss you" tweets came pouring in.
People literally had to do a double take when they saw this photo.
Michelle, are you really sure you won't run in 2020?
When the former first lady isn't making everyone tear up, she's working to empower the nation's future generations.
Her time in the White House might have ended, but she's staying true to her promise to keep working on the causes she values. Just this week, she joined forces with Spotify at the Beating the Odds Summit at Washington, D.C.'s Dunbar High School, which was to help college-bound students pursue their goals, particularly in the tech field.
She also recently addressed the country on a more serious note: people's inability to look past her race. Despite her efforts to put her country first, Obama believes that people will not acknowledge her accomplishments because of her skin tone.
"Knowing that after eight years of working really hard for this country, there are still people who won't see me for what I am because of my skin color," she said according to The Washington Post.
Though Obama has faced backlash and racism, her accomplishments, caring nature, and empowering beliefs will continue to inspire many for years to come. The adorable tweet she sent to her mother is just one of the many things to love about the former first lady.