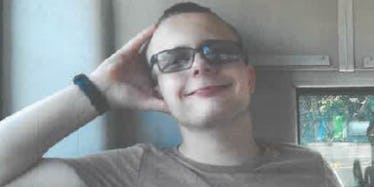 Men Jailed For Life After Hanging Man With Learning Disability From Tree
Leicestershire Police
A "lovely young man" with a learning disability was brutally murdered by two young men, who lured him to a park in the dead of night.
Joshua Hack and Keith Lowe have been jailed for life with a minimum of 20 years for killing Brendan Mason in Abbey Park in Leicester, England, last July.
During an attack that lasted several hours, the two men hung Brendan, 23, from a tree and and hit him several times before throwing his body in a pond.
Hack, 21, and Lowe, 22, both pleaded guilty to murder.
In a statement following the sentencing, Brendan's uncle and aunt, Robert and Sarah Chambers, said,
It is not right how two evil people can do such a horrific thing and leave a massive hole in our lives that will never be filled again. Seven months on and there's never going to be a day in our lives where we are going get closure. Brendan was a lovely young man and he was so happy. Even though Brendan had numerous learning difficulties and was very easily led by others, he always knew right from wrong.
Leicester Crown Court heard Hack and Lowe filmed the attack and taunted the victim, saying, "Smile for the camera."
The two had lured Brendan to the park by pretending they wanted to spend time with him, but they planned to attack him after misinterpreting how Brendan acted in front of a girl at a party.
Prosecutor Miranda Moore explained,
They were describing Brendan as a pedophile and nothing could be further from the truth.
Afterward, they were seen on a surveillance camera casually walking into a McDonald's.
Brendan was unfortunately found unconscious early the next morning. With 99 different injuries, including brain damage, a collapsed lung and broken ribs, Brendan passed away later that same day.
Police also found a "trophy" picture of Lowe behind Brendan, who was clearly injured and naked in the photo, as well as another 53-second video of the attack.
Defense attorney for Hack, Michael Auty, said his autistic client was "pathetically immature," while Christopher Donnellan, defending Lowe, said he knew there would be a confrontation "but not at the level that it turned into."
Hack, who allegedly laid flowers at the scene where Brendan's body was found, was jailed for life with a minimum of 20 years and six months.
Lowe, who tried to hide evidence, also received a life sentence with a minimum of 21 years.
Judge Michael Chambers described the attack as "deeply disturbing," adding it included the "most extreme violence."
Citations: 'Friends' who hung man with learning difficulties from tree jailed for life Read more: http://metro.co.uk/2017/02/20/friends-who-hung-man-with-learning-difficulties-from-tree-jailed-for-life-6460969/#ixzz4ZFxBf7c6 (Metro.co.uk), Statement from family of Brendan Mason (Leicestershire Police)