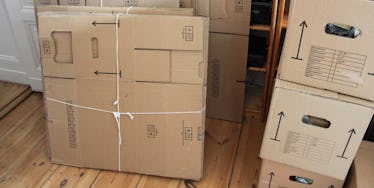 Amazing Moving Company Donates Its Services To Domestic Violence Victims
Shutterstock
Victims of domestic abuse can be moved out of their homes for free thanks to a special California company.
Meathead Movers was started about two decades ago in San Luis Obispo, and the company now has four offices throughout the state that employ mostly student-athletes.
Aaron Steed, who founded the company in high school with his brother, told the Los Angeles Times within the first few years in business, the company received multiple calls from women trying to escape abusive relationships.
He said,
There were a lot of intense moments and crying. I remember the conversations pretty vividly and feeling a tremendous amount of panic and sadness. Handling those phone calls made it very real very quick. As the jobs went on, we realized we were potentially saving lives.
Steed, now 35, felt it was wrong to take money from victims of domestic violence so he soon established a company policy offering free services to such individuals. He said during one move a few years ago, a woman's abusive boyfriend came to the home and threw a toaster at the wall.
All of the company's employees receive training from domestic violence shelters in how to deal with potential emergencies.
Steed said,
Whenever we get a panicked phone call, we tell them to call the local domestic violence shelter and tell them of their process, which includes contracting with us for the free moving services.
AJ Clarey, the operations manager at the company's Santa Ana branch, recalled being contacted by a shelter and then "discreetly" moving a woman and her children across San Luis Obispo County to help her avoid further violence.
Steed said the athletes hired by Meathead Movers are proudly "clean-cut" and "drug-free," which gives customers a sense of security.
Good Shepherd Shelter, a Los Angeles shelter for homeless women and children, has been working with Meathead Movers for about a year now.
The shelter's director of institutional advancement, Kathleen Buczko, described the employees of Meathead Movers, telling the Los Angeles Times,
They're wonderful, sensitive, caring and enthusiastic. They help turn something that had been associated with something that was so incredibly traumatic into a celebration of moving to their new homes and to a new life.
Steed believes his company's policy is especially important for young employees, who will learn domestic abuse happens everywhere, even in the wealthiest neighborhoods.
These employees will also hopefully be inspired to become more involved in helping those in need, Steed said.
Citations: Meathead Movers offers services for free to victims of domestic abuse (Los Angeles Times)