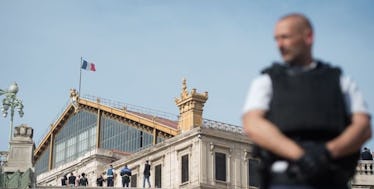 Knife Attack At French Train Station Leaves Three Dead, Including Alleged Attacker
BERTRAND LANGLOIS / Contributor / Getty Images
Two female commuters were fatally stabbed on Sunday, Oct. 1 during an attack at a train station in Marseille, and the alleged assailant was subdued and killed by police, according to NBC News. People in the surrounding area have been warned to avoid Saint-Charles station, which has been evacuated and cordoned off, The Guardian reported. According to sources, the suspect allegedly shouted "Allahu Akbar" ("God is greatest") before carrying out the violent crime.
Though he was not carrying any identification, the alleged attacker was believed to be in his 30s. The victims have not been identified.
"Everyone ran out screaming; that's when I heard two gun shots," a source told The Guardian. "In less than five minutes, dozens of police were there and blocking the station."
Thanks to the country's security precautions, the suspect was quickly targeted. He was confronted by soldiers from Operation Sentinelle, which was created in response to the violent acts at Charlie Hebdo magazine and a kosher supermarket in Paris two years ago. Operation Sentinelle calls for troops to patrol the areas and "key sites," The Guardian stated, which include metro stations, mosques, and even nursery schools, among other locations. Roughly 6,500 of the 10,000 troops are stationed in Paris.
In response to the attacks, French Interior Minister Gérard Collomb planned to head to scene immediately. A counter-terrorism investigation has been opened, according to the New York Daily News, though some people already started to label the incident as terrorism before the investigation.  More than 230 people in France have been killed in terror-related incidents since 2015, The Guardian stated, and that word is definitely sensitive.
The controversial "terrorism" label is also causing a stir and an onslaught of opinions via social media. According to Twitter, there are people showing their support for those who have been affected, and there are also those who are focusing on the terminology.
Now, politicians have come out to show signs of support for those who were affected by the Oct. 1 event.
French President Emmanuel Macron said on Twitter, "Deeply outraged by this barbaric act, in pain with the families and relatives of the victims of Marseille. I salute the military Sentinel and the police officers who responded with cold blood and efficiency." France has been in a state of emergency since late 2015. The status was set to lift in November, though a new counter-terrorism law has to be put in place for that plan to continue.
But Macron is not the only politician speaking up. Samia Ghali, a Socialist senator for the Bouches-du-Rhône department in the south of France, said: "This is shocking and worrying. We must remain prudent in the coming hours and days," The Guardian stated.
As of 2:20 p.m. on Oct. 1, President Donald Trump has tweeted about the threat of "Little Rocket Man," and the ongoing hurricane relief issue in Puerto Rico. He has yet to comment on this event, nor Catalonia's independence vote, which turned into extreme violence and chaos.
This horrific incident is not the first to strike Marseille. Earlier this year, four U.S. tourists — all females in their early 20s — were attacked by a 41-year-old man sprayed them with hydrochloric acid from a spray canister, according to Metro UK. They had been traveling between Marseilles and Paris and were struck early in the day at 11 a.m., the site further reported.
All in all, these horrific crimes have become far too common. Initiatives to help prevent these types of occurrences should certainly be taken seriously. It's a shame that we live in a world where violence has become so predominant. Our thoughts and prayers go out to those who have been affected by this senseless tragedy.