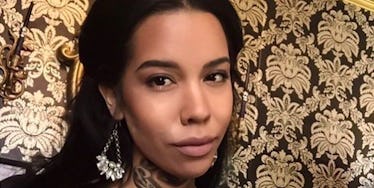 Ex Female Marine Whose Nudes Appeared On FB Page Reveals Scary Messages She Got
Facebook
Two women who are victims of the revenge porn scandal that has rocked the Marine Corps have opened up about how it has affected them.
Hundreds of Marines are being investigated over a men's-only Facebook group where naked pictures of women — both fellow Marines and civilians — were shared.
In emotional interviews, Elle Audra, a former corporal who left the Marine Corps in 2010, and Kelsie Stone, whose ex was a Marine, have spoken out.
Audra, who is now a tattoo model, told the Marine Corps Times about scary messages she received on Facebook from other Marines.
This has led her to believe nude photos of her with posted in the notorious secret Facebook group Marines United, which is being investigated.
She said,
The messages are usually something around like, "Where were you when I was in? I would've fucked you too."
She sad one of the scariest messages she received was from a man who knew when she deployed, and where to. He asked if she would have sex with him.
But Audra added she is "beyond relieved that someone finally told the truth," and hopes this is the start of a "better and safer Marine Corps."
Kelsie Stone learned her nudes had been posted to Marines United when a friend sent her screenshots from the Facebook group.
It happened shortly after she broke up with her Marine ex last year.
Stone explained she lives in a town with a lot of Marines, and the invasion of her privacy has extended from Facebook to people making comments in public.
She said,
Some of the comments have them mentioning how they liked what they saw, how could they get some of that or whatever.
Stone, whose dad served as a gunnery sergeant, is considering moving away to escape.
She added,
I grew up thinking the Marines were it — that there was no better for honor and integrity. I grew up a Marine brat and this isn't the Marine Corps image my dad fought to represent.
The Naval Criminal Investigative Service is investigating, and has encouraged victims to contact them.
Before it was shut down by Facebook, Marines United had nearly 30,000 members, and the number of nude images shared has been described as hundreds, or possibly thousands.
They were shared as revenge porn and may have been obtained by Marines hacking their former partners' phones, authorities believe.
Citations: 'I don't want to leave my house': Victims haunted by Marines' nude photo scandal (Marine Corps Times)