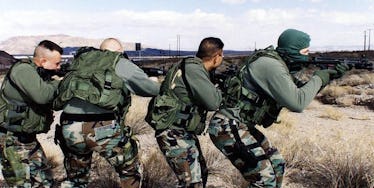 Hundreds Of Marines Caught Sharing Nude Pics Of Female Colleagues In FB Group
Wikimedia Commons
Hundreds of Marines are implicated in a naked-picture-sharing scheme that took place on a closed Facebook group and a Google Drive.
To make it more disgusting, the male Marines were sharing images of their female colleagues in the service, as well as veterans.
Photos were shared on Marines United, a men's only Facebook group for Marines and veterans. That group had almost 30,000 members.
The sharing was revealed by The War Horse, a nonprofit news organization. War Horse founder Thomas Brennan contacted the Marines Corps. on January 30, which prompted Google and Facebook to shut down the accounts at the Marines's request.
However, pictures continued to be shared after that, according to the Center for Investigative Reporting, which published Brennan's piece.
The photos often included identifying information of the women, including their names, ranks and duty stations as well as social media accounts.
The hundreds (possibly thousands) of photos were obtained in a variety of ways. This includes former partners sharing pictures, stalking and potentially hacking female members's phones and accounts.
Photos were also surreptitiously taken of female Marines. One female corporal in uniform was followed and photographed by a male Marine at Camp Lejeune in North Carolina.
Those photos were posted to the Marines United Facebook group, where Marines commented the poster should "take her out back and pound her out," according to the Center for Investigative Reporting.
So that gives you a pretty good idea of the amount of respect granted to female Marines by their male colleagues.
The case is being investigated by the Naval Criminal Investigative Service, and at least two people have been punished already. The first man to post the link to the Google Drive was a Marine veteran working as a government subcontractor. He was fired.
The man who took the photos of the Marine in North Carolina was also fired.
The Marine Corps. said in a statement,
This behavior destroys morale, erodes trust and degrades the individual. The Marine Corps does not condone this sort of behavior, which undermines its core values.
The statement says Marines could be investigated for breaking a number of codes, including violating consent and privacy.
Since publishing his article revealing the Facebook and Google Drive groups, Brennan has reportedly faced "threats against him and his family" from Facebook group members, according to the Marines Corps Times.
The Marines said in its statement that members affected by the photo sharing have a number of resources available to them, including Victim Legal Counsel and Sexual Assault Response Coordinators.
Citations: Sharing Of Nude Photos Of Female Marines Online Prompts Pentagon Investigation (NPR), Hundreds of Marines investigated for sharing photos of naked colleagues (Center for Investigative Reporting), SOCIAL MEDIA MISCONDUCT ON MARINES UNITED WEBSITE (Marines), A nude photo scandal has shaken the entire Marine Corps (Marine Corps Times)