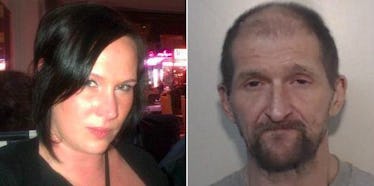 Man Plants Vibrator Next To Woman He Killed To Make It Look Like Fatal Sex Game
Facebook/ Police
An obsessive man who was infatuated with his friend stabbed her to death and left a vibrator at the scene of the crime to make the murder look like a sex game gone haywire.
Glynn Williams, 53, claimed he was "madly in love" with 36-year-old hairdresser Sian Roberts of Greater Manchester, England. He met her through friends and wanted to marry her.
However, he was found guilty of murdering Roberts inside the comfort of her own home after brutally stabbing her with a long-bladed kitchen knife four times in November 2015, MailOnline reports.
Williams has officially been sentenced to life in prison.
Before Williams killed the woman he was "in love" with, the duo was seen entering Roberts' home, where she noticed he had stolen her necklace and watch. Then, he proceeded to stab her multiple times.
He then watched the woman bleed to death, and placed a vibrator and a pair of handcuffs next to her body to confuse police into thinking a sex game gone wrong led to her demise.
Williams also placed the knife into Roberts' lifeless hand to make it look like she stabbed intruders before they fled the home.
After he was done staging the murder scene, Williams fled.
Richard Mansell, the judge at Manchester Crown Court, said Williams was caught by CCTV climbing over a neighbor's fence after leaving Roberts' property.
It's been reported he went to Roberts' friend's house after the murder and didn't let anyone know what he had done.
Deana Dyce, Roberts' friend, commented on Williams' unusual behavior the night he killed her.
She said,
On that night he couldn't keep still in one spot, it was like he had ants in his pants. I actually said, 'What's wrong with you,' but never in a million years would I have put it together. He said there was nothing wrong.
Her friends eventually became worried because she wouldn't answer her phone, claiming this behavior was not like her.
Her body was then found by her ex-boyfriend, Joel Gordon, who immediately called the police.
During the trial, Williams denied murdering Roberts and blamed her death on Gordon.
Gordon responded to the conviction and said,
I didn't kill her — if I was involved in this I would be in the dock. If I was arranging any body I would have blood all over me.
Williams was sentenced to life in prison after his bloody footprints were found at the scene of the crime.
The judge concluded his fate in court, allegedly saying,
You inflicted mental and physical suffering. You sat with her as she lay there bleeding and did nothing. You concealed her body and left the house locked and kept quiet about her death for over 36 hours. I conclude there was some kind of argument that started up but the infliction of four stab wounds leads me to the conclusion that you intended to kill her.
Citations: Obsessed admirer, 53, stabbed mother of one hairdresser to death then made it look like a sex game gone wrong (MailOnline)