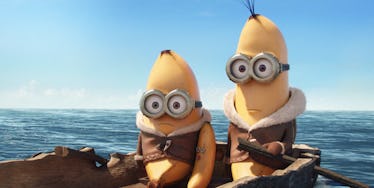 New York Man Used Minions And Olaf From 'Frozen' To Smuggle Cocaine
Universal Pictures
Numerous arrests were made after New York inspectors reportedly found cocaine hidden in boxes filled with Minions and other toys.
According to Gothamist, 24-year-old Albert Fortosa of Harlem was arrested on July 2 after receiving a USPS package stuffed with wrapped presents and toys. This was one of five packages mailed to Fortosa over the previous weeks, each containing cocaine hidden inside a wireless router box.
The shipment received on July 2 was packed with Minions and other dolls like Olaf from "Frozen."
In a statement, Special Narcotics prosecutor Bridget Brennan said,
Kilos of cocaine were disguised as children's birthday gifts, and shipped alongside innocent looking Olaf dolls and other toys, in a failed attempt to conceal the sinister contents.
In total, Fortosa was due to receive $225,000 worth of cocaine from the packages shipped from Puerto Rico.
When approached by police, Fortosa reportedly dropped the package and tried to flee.
About a month later, a lengthy wiretap investigation led to the arrest of 26-year-old Daniel Reyes, who ran the drug delivery operation out of Bushwick involving heroin, cocaine, MDMA and Xanax.
Derek Santana, 25, who sold the drugs at clubs in Brooklyn and Manhattan, and 44-year-old Joseph Owens, who reportedly worked directly with Fortosa, were also arrested on August 4.
The drug ring is said to have unknowingly sold over $41,000 worth of drugs to undercover officers in Brooklyn and Manhattan since September 2014.
Fortosa, Reyes and their colleagues now face numerous charges related to conspiracy, possession and the sale of controlled substances.
Bail was set at $250,000 for Fortosa, who pled not guilty last week.
Citations: Drug Ring That Dealt In Bushwick Clubs Shipped Coke With Stuffed Minions (Gothamist)