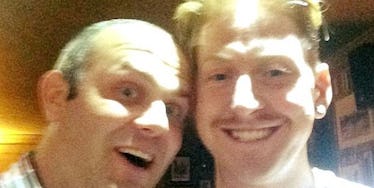 Man Ties Up 'Love Rival' And Suffocates Him With Plastic Wrap In Brutal Attack
Social media
A soldier who ambushed, kidnapped and stabbed his love rival and former best friend has been jailed for 19 years.
John Watson, 35, kidnapped James Dicks at knifepoint days after he requested a grave to be dug for a "dead dog," which was actually intended for Mr Dicks.
He tried to suffocate Mr Dicks by stretching plastic wrap over his face and stabbed him before police arrived at a house in Windsor, UK.
Watson was found guilty of attempted murder after a trial at Reading Crown Court in England last month. He had previously admitted kidnap and possession of an offensive weapon.
Jailing him, Judge Angela Morris said there were "two John Watsons."
While one was "a devoted family man who served his country with honor," the other was "one of anger, jealousy and murderous intent," she said.
The court was previously told the two men had developed a "bromance" while they served as soldiers in the same unit of the British army.
But the friendship ended when Mr Dicks started a relationship with Watson's estranged wife Lynsey Foston.
The tension came to a head in May 2016 when Watson waited outside Ms Foston's home in Windsor, Berkshire, and confronted Mr Dicks when he left the house, the court heard.
After a struggle between the two men, Watson binded Mr Dicks' wrists with cable ties and forced him into the back of his car.
Judge Morris told Watson,
You are the one who tried to wrap his head in cling film when he fought back in the second car park in an effort to escape and, ultimately, you are the one who was continuing to attack when the police eventually arrived on the scene.
Police were called by concerned witnesses, whose actions helped to save Mr Dicks' life, the judge added.