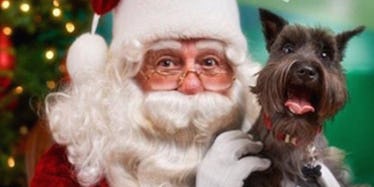 Man Released From Jail For Sexual Assault Picks Up Job Playing Santa At Petco
Facebook
I've always been a big believer in giving people second chances.
However, in some instances, giving someone another shot is probably just asking for trouble.
Case in point: hiring a child sex offender to work as Santa.
Leonard Russell Kidd, a 37-year-old convicted child sex offender from Max Meadows, Virginia, was just hired as Santa Claus at Petco.
According to Petco employees, Kidd, who was released from prison in 2015 for sexually assaulting a young boy, worked at the store in Wytheville, Virginia, over the weekend of December 10.
During the event, he interacted with kids and families as he posed for pictures with pets on his lap.
As a convicted sex offender, Kiss is prohibited from attending any events where he has access to children, unless he is given special permission from his probation officer.
However, The Roanoke Times reports that Kidd's probation officer, Mike Montgomery, had no idea he had spent his Saturday working as Santa Claus.
According to court documents, Kidd pleaded guilty in 2002 to aggravated sexual battery in the assault of the 6-year-old boy and assault of a police officer.
Kidd is also believed to be involved in the abuse of two additional young children.
He was sentenced to jail until 2009, however, due to state laws that allow certain sex offenders to remain imprisoned longer, Kidd was not released from jail until 2015.
Wytheville Enterprise reports that during the hearings concerning Kidd's extended prison confinement, psychologists told the courts that Kidd had mental abnormalities that would make him likely to commit repeat offenses, according to DailyMail.com.
While Petco's store managers have confirmed that Kidd was the man who played the role of Santa during the holiday event, it is not yet known if Petco was aware about his criminal record prior to hiring him.
Lisa Stark, a Petco spokesperson said that Petco is investigating the incident and that Kidd is no longer working at the company.
Stark told The Roanoke Times, "The safety of all guests in our stores is our top priority."
Petco plans to hold another holiday event where families can get pictures of their pets with (a new) Santa to support the Petco Foundation, a charity that helps pets in need.
Citations: Child sex offender 'was given a job as a Santa Claus at Petco less than a year after being released from prison' (DailyMail.com), The Roanoke Times