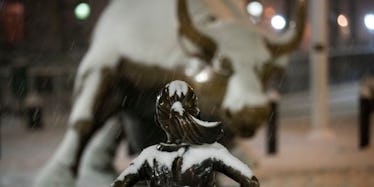 Man Puts Peeing Dog Next To "Fearless Girl" And It Symbolizes His Male Fragility
Drew Angerer/Getty Images
To many, the "Fearless Girl" statue that stands across from Wall Street's iconic "Charging Bull" statue is a symbol of female empowerment.
But artist Alex Gardega, who placed a statue of a peeing dog next to "Fearless Girl," disagrees.
Speaking with the New York Post about the "Fearless Girl," he said, "It has nothing to do with feminism, and it is disrespect to the artist that made the bull. That bull had integrity."
In a conversation with NBC 4 New York, Gardega added,
I have a lot of empathy for the creator of the bull. I'm a pretty happy person, not seething or angry and certainly not anti-feminist. My piece is not without a sense of humor. There is plenty of room for Fearless Girl it just interferes with another artists work/vision.
The "Fearless Girl" statue was commissioned by the mutual fund State Street Global Advisors and erected across from "Charging Bull" back in March to commemorate International Women's Day as part of a broader campaign calling for more women on corporate boards.
Gardega apparently views this as "corporate nonsense."
The sculptor behind "Charging Bull," Arturo Di Modica, appealed for "Fearless Girl" to be removed and he's suing State Street Global Advisors for trademark and copyright infringement, according to The Huffington Post.
"Fearless Girl" was originally only supposed to remain across from the bull temporarily, but after a petition that received thousands of signatures, will remain where it stands until at least February 2018.
In spite of the varying opinions surrounding "Fearless Girl," a lot of people aren't buying Gardega's justification for why he was inspired to put the peeing dog statue next to it.
Gardega's critics seem to believe he's simply uncomfortable with the notion of gender equality, and felt the need to undermine it in an aggressive and insulting way.
The statue, dubbed "Pissing Pug," was apparently removed by Gardega just a few hours after he placed it next to "Fearless Girl."
Long story short, "Fearless Girl" has survived this encounter with the tiny, peeing dog and perhaps came out even stronger as a result.
She was peed on. She was given an explanation. Nevertheless, she persisted.
Citations: Pissed-off artist adds statue of urinating dog next to 'Fearless Girl' (NY Post)