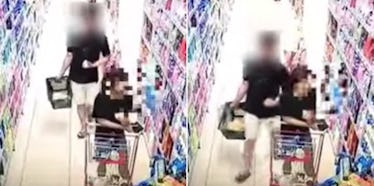 Man Caught Pouring Semen On Back Of Supermarket Shopper In Disgusting Video
YouTube
A man snuck up behind a female shopper and quickly poured semen down her back before walking away like nothing happened.
The disgusting scene was caught by a security camera at a Chinese shopping center, China Press reports.
During the footage, an unnamed man is seen creeping up behind a shopper as she browses the shelves, completely oblivious of what's about to happen.
The alleged semen-tosser appears to be holding a white container as he approaches the innocent woman.
When he gets close the victim, he whips his hand and soaks the woman's back with semen.
Then, he continues his stroll through the isle as if nothing even happened as the woman turns around in confusion to what's been spilled on her.
If you wish to watch the nightmarish scene unfold for yourself, check out the CCTV footage caught by shopping center.
It's been reported the suspect masturbated and put his semen into the container emptied on the woman's back.
The woman in the video isn't the only female shopper who was targeted, though.
Apparently, multiple women in the shopping center claimed they found a "sticky liquid" on their clothes and asked security to play back cameras from inside the store.
According to China Press, this man was arrested after women came forward.
Unfortunately, there seems to be a trend where men have been caught tossing their semen onto innocent female shoppers.
Last month, a man was accused of filling a syringe with his semen and squirting women on the butt inside an Ohio Walmart.
He was found guilty of spraying two females with his bodily fluid after they reported a "sticky white substance" found on their clothing during their visits to the store.
It turns out this criminal would masturbate inside the Walmart bathroom before filling a syringe with his bodily fluids before squirting women shoppers.
Gross.
I think I'll stick to online shopping for a while to avoid any semen-throwers who might be lurking in the isles.