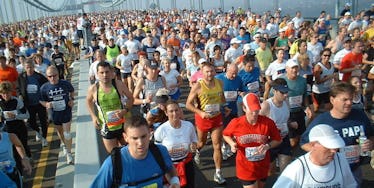 Italian Man Spends 2 Full Days Lost In New York After Running The Marathon
New York City is a confusing place.
Don't believe us? Just ask Gianclaudio P. Marengo.
Marengo, a 30-year-old Italian man, just spent two days lost in the city after completing the New York City marathon.
Marengo came to the city with his running group — all Italians visiting from the San Patrignano drug rehabilitation center on the Adriatic Coast. The group set out to run the marathon together; however, Marengo was separated from the pack at the finish line.
Along the race, Marengo also dropped a piece of paper with information on how to get back to his accommodations.
All alone, Marengo waited for his group at the finish line, where he reportedly ate a slice of pizza and spent the night sleeping on the streets.
In the morning, Marengo left the finish line and traveled to John F. Kennedy International Airport in an attempt to meet up with his friends who were set to depart that day.
However, believing he was a homeless man, airport security kicked him out.
Marengo returned to the city and spent another night on the street, still wearing the same clothes he ran in.
Thankfully, the next morning, Marengo was spotted on the subway, looking frightened and alone, by New York Police Department Officer Man Yam.
Yam tells The New York Times,
I got a seat and, literally, he is sitting across from me. It hit me right away based on his mannerism and what he looked like ... He kept turning and looking to the map. He seemed like he was under duress, like he happened to be lost or not knowing where he was going ... I was just doing what any person, man or woman, whether in my department or not, would do. What mattered the most is he smiled. He realized that he'd been found — he was in good hands.
Yam took Marengo off the subway, bought him a coffee and a doughnut and then brought him to the hospital. Luckily, he only suffered minor dehydration.
Marengo is now en route, on a direct flight, back to Milan.
Citations: Missing Italian Marathoner Found on New York Subway, Still in His Running Gear (The New York Times)