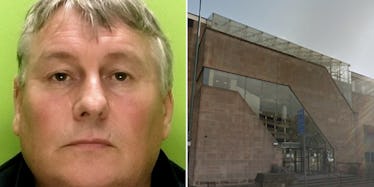 Man Jailed For Brutal Rape After Getting Into Fight With Teen 20 Years Later
Nottinghamshire Police/Google
A businessman has been jailed for rape after a DNA test revealed a match between him and the victim, who was assaulted 26 years ago.
Police took a DNA sample from Mark Carnelley in 2010 when he was arrested on suspicion of assaulting a teenager outside his five-bedroom home in Nottingham, England.
Detectives used modern technology to reinvestigate the rape that happened in September 1990 — and they found Carnelley's DNA taken in 2010 was a match.
The wealthy businessman, who started a family and set up a successful printing firm in the years after the attack, initially denied raping the woman.
But he changed his plea to "guilty" on January 24 after a court was told the probability of the DNA not being his was less than one in a billion.
Carnelley, 52, the managing director of Precision Inks Ltd, has been jailed for seven years.
In an emotional statement read out in Nottingham Crown Court, the woman — who cannot be named for legal reasons — wrote,
It made me feel like I wanted to rip my insides out and my body didn't belong to me anymore. I never got over what happened to me.
In sentencing, prosecutor David Allen said Carnelley pulled his victim into an alleyway, claiming he had a knife.
He raped her and threatened to hurt her before running away — and police were unable to track him down, until 2010 that is.
Sentencing Carnelley, Judge Stuart Rafferty QC said,
You are 52 years of age. Halfway through your life. Not a young man, not a teenager, but halfway through your life. At the age of 26 you did something absolutely unforgivable. As the time went by you simply confined her and that night to memory. Were it not for advances in science you would never have been caught. Thank heavens sometimes for science.
Ian Way, defending Carnelley, said the defendant is "a very different person to the person he was then."
Speaking after the hearing, detective inspector Justine Dakin, of Nottinghamshire Police, described the victim as an "incredible woman."
Citations: Wealthy businessman is jailed for raping a woman 26 YEARS ago after he was arrested and had his DNA taken following an altercation with a group of rowdy teenagers outside his £500,000 home (MailOnline)