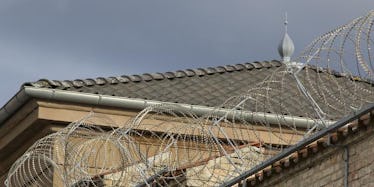 Man Spends 13 Years At Guantánamo After He's Mistaken For Al-Qaeda Member
Getty Images
A Yemeni prisoner at Guantánamo Bay was arrested and held for over a decade because he was mistaken for militants with similar names.
According to NBC News, 37-year-old Mustafa Abd-al-Qawi Abd-al-Aziz al-Shamiri was captured in Afghanistan in 2002 over accusations he served as a courier and trainer for al-Qaeda.
But US officials admitted at a hearing on Tuesday al-Shamiri did not hold these positions and was merely a Taliban foot soldier at most.
He was only arrested, the officials said, because his name sounds similar to those of numerous high-level al-Qaeda members.
A profile published by the US Department of Defense states al-Shamiri fought alongside the Taliban against US troops from 2000 to 2001 and likely trained to use explosives at a camp in Afghanistan, The Guardian reports.
He also may have stayed at a safe house with al-Qaeda members who planned the bombing of the USS Cole in 2000, but no evidence directly tied him to the attack.
Al-Shamiri never faced trial due to a lack of evidence regarding his role in al-Qaeda, but he was held for 13 years because he was deemed a threat to the US should he be released.
During yesterday's hearing, the prisoner's representative submitted a document discussing al-Shamiri's kind nature, as well as his desire to go to school and get married after his release.
In the document, the representative reportedly said,
Mustafa will show you today that he is not a continuing significant threat to the United States of America. He is earnestly preparing for his life after Gitmo. During his time in detention, he has attended English and art classes, in addition to acquiring carpentry and cooking skills. During the last feast, Mustafa generously took the time to prepare over 30 plates of pastries for his fellow detainees. When I asked him why he would make pastries for his fellow detainees, he said it's because it makes him feel like he can give back and share with people.
The document reportedly goes on to say al-Shamiri understands he chose "the wrong path early in life" and "is willing to go to any country that will accept him" since returning to Yemen is, apparently, out of the question.
It is not clear if al-Shamiri will be the 49th prisoner to be cleared for release from Guantánamo Bay, which currently holds 107 people.
President Obama previously said the prison's population will soon shrink to below 100.
Citations: Guantanamo Bay Detainee Is Case of Mistaken Identity: DoD (NBC News), Man held at Guantánamo for 13 years a case of mistaken identity, say officials (The Guardian)