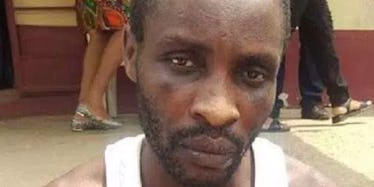 Man Kills GF To Have Sex With Body: 'I Took That Thing She Has Been Denying Me'
Twitter
A man has reportedly confessed to killing his girlfriend and then having sex with her dead body.
Sunday Ushie said he murdered Nnenna Samuel in Calabar, Nigeria, because the couple had been dating for two months, but she wouldn't have sex with him.
The 35-year-old cocoa farmer, who blamed the killing on the devil, added he had been giving the victim, a mom-of-two, money during their relationship, Nigeria's Daily Post reported.
He killed Samuel by stabbing her in the hand, leg and mouth, then had sex with her, telling reporters, "It was strange sleeping with a dead corpse."
Ushie said,
It is the work of the devil. I do not know how. I am the one that killed her. I killed her with knife. She was my girlfriend and I knew her for just two months before this incident happened. I slept with her corpse after killing her. I never had sex with her when she was alive because she never gave me that opportunity. I was always giving her money but she didn't allow us to have sex.
Ushie told Vanguard,
She is always coming to my place and I spend a lot of money on her. However, any time I want to be intimate with her, she rebuffs me yet continues to collect money from me. So out of anger, I killed her and took that thing she has been denying me of because she has taken a lot of money from me.
The killing happened at Ushie's apartment on January 26, but has only just come to light.
He was arrested by officers from Cross River State Police Command after Samuel's landlord, Cletus Etta, reported the incident to police.
Police commissioner Hafiz Inuwa said the victim's children, ages 11 and 9, told the police their mom was invited out by Ushie on the night of her death, but did not come home.
An investigation into the crime is ongoing, but Ushie is likely to be charged with murder, Inuwa said.