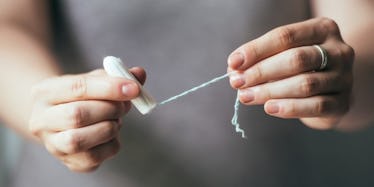 Man Divorces 'Demon' Wife After She Asks Him For Oral Sex While On Her Period
Shuttestock
When it comes to period sex, some men are hesitant to get down 'n dirty while others DGAF about the womanly flow.
A man from Nigeria made his preference clear when he announced his plans to divorce his wife after she requested oral sex while she was on her period.
Idongesit Etuk, 38, accused his wife, Blessing, 40, of being "demonic" after wanting him to "suck her blood" during sex, Metro reports.
He's even convinced she's in a secret cult due to her bloody request.
Referring to the sexual past he and his wife share, Etuk told a court,
My wife is demonic. For several years, she will insist that we have sex when she is having her monthly flow. I didn't have issues with that at first because she is my wife and I vowed to love her. But things got out of hand when she will always insist that I give her a blowjob.
Blessing, on the other hand, said she only asked her husband to give her oral sex once and never forced him to do so.
Still, Etuk claimed she threatened to divorce him if he didn't give her oral sex on her period and called her "abusive and arrogant," saying she "lacks respect" for his family.
The disgusted husband continued by stating:
Please, I am tired of the union. If she is not in a secret cult, how can I suck her blood when I did not have any spiritual covenant with her?
That's right: Just because his wife wanted to have a little fun during her period, her husband is convinced she's in a demonic, blood-sucking cult.
Seems totally rational.
Even though the couple has been married for 12 years, Etuk claims he cannot continue their relationship under the given circumstances.
However, his wife wants nothing to do with a divorce. She said,
I still love my husband and I cannot bear to leave without him. My children cannot leave without a father at such tender age.
Etuk doesn't seem to care, because the he's been granted the divorce and will be given free access to his children who will remain under his wife's care.
Citations: Husband seeks divorce because wife makes him give oral sex during her period (Metro)